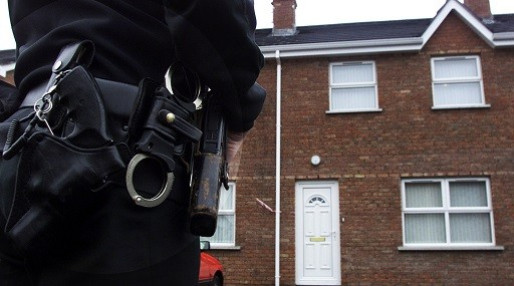 Police in Northern Ireland have confirmed a mortar bomb intended to "kill or injure" was discovered at a police station in Londonderry.
Around 1,000 people had to evacuate their homes during the security alert as police sealed off the area around Strand Road PSNI station.
The discovery of the bomb comes one day after a man was killed in a "brutal execution" in a flat in the centre of Derry.
Police have condemned those responsible for planting the bomb as having a "complete disregard for innocent lives".
Superintendant Stephen Cargin added: "Close to 1,000 people had to leave their homes last night because of the misguided actions of the people responsible for this incident.
"It is only by good fortune that we are not talking about loss of life or serious damage to property.
"While the device will be forensically examined in due course it is safe to say that the intent here was to kill or injure and create fear within the community."
All residents who had to be evacuated from their homes have since returned.
Others have also strongly condemned the planned attack.
SDLP MLA Pat Ramsey said: "This had the capacity to cause catastrophic damage and suffering in our city.
"Those responsible for today's disruption must know that they will not break the spirit of this city and its people.
"We have endured too much to allow anyone to attempt to bring the past back to our streets.
"Those who have sought to hurt our city and our people will never win."
Alliance Justice spokesperson Stewart Dickson MLA added: "Those responsible for this mortar bomb have no regards for the lives of others. Anybody could have been seriously injured or killed had it exploded.
"I would like to pay tribute to the police and army officers who put their lives at risk to protect the public during this security alert. Their bravery stands in stark contrast to the evil actions of those responsible for this mortar bomb."