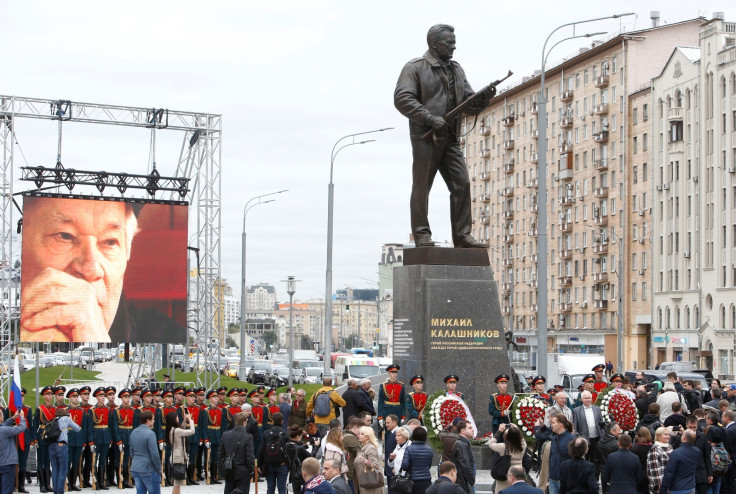 A 30ft-high statue of Mikhail Kalashnikov, the inventor of the world's most widespread assault rifle, has been unveiled in Moscow. The bronze monument shows Kalashnikov, who towards the end of his life was kept awake at night over the millions who were killed because of his invention, cradling an AK-47.
The ceremony before the statue was unveiled featured the Soviet anthem, Orthodox prayers and speeches about how the firearm ensured Russia's safety and peace in the world. The 35-million-rouble (£450,000) statue was financed by the Russian Military-Historical Society, a patriotic group set up by the Kremlin, and erected on Sadovaya Karetnaya Street.
An estimated 100 million AK-47 assault rifles are now spread worldwide. By some estimates, the AK-47 and its versions account for around one-fifth of the world's firearms, and it has become the weapon of choice for terrorists and drug gangs.
The country's minister of culture Vladimir Medinsky unveiled the monument to Kalashnikov, who died aged 94 in 2013, in the Russian capital.
He said of the inventor: "Extraordinary natural talent, simplicity, honesty, organisational skills — all of this made it possible to create a whole line of weapons in defence of the Fatherland, among which, of course, is the Kalashnikov automatic rifle, which is, one can say, a true cultural brand of Russia."
A lone protester was detained by police as he attempted to raise a banner which said "a creator of weapons is a creator of death".
Saving Russia
Kalashnikov, born into a peasant family in Siberia in 1919, was mechanically minded and intended to design farm equipment. But during World War II he was called into the army.
He was wounded in the 1941 battle of Bryansk, and spent several months recovering in a hospital. While nursing his wounds, he heard other soldiers complain that Red Army rifles were inferior to those used by the Nazis, and he began to work on designs of his own.
The army put him to work as a designer and by 1947 he made his breakthrough. The name of the weapon commemorates the designer and the year — Avtomat Kalashnikova (19)47.
The AK-47 soon became popular for its adaptability to rugged conditions, including jungles, deserts and cold. It is easy to operate and maintain – with little training, users can field-strip the firearm in half a minute.
The gun was quickly adopted by Soviet bloc armies and the Soviet Union distributed them to revolutionary groups throughout Africa and Asia.
Deathbed doubts
The AK-47's distinctive profile with a banana clip makes it instantly recognisable. It appears on the flag of Mozambique, the flag of Hezbollah, and its barrel is shown on Zimbabwe's coat of arms.
Kalashnikov had said repeatedly that he was untroubled by inventing a gun that had ended so many lives, insisting that he designed it to defend Russia. "I sleep well. It's the politicians who are to blame for failing to come to an agreement and resorting to violence," he said in 2007.
But a few months before his death Kalashnikov wrote a confessional letter to Russian Orthodox Church leader Patriarch Kirill.
He wrote: "My mental anguish is unbearable. I have the same insoluble question: if my submachine gun took people's lives, does it mean that I, Mikhail Kalashnikov, 93-years-old, the son of a peasant, and Orthodox Christian by my faith, am responsible for the deaths of people, even if they were enemies?"
The religious leader replied the blame did not lie with him, but with those who used his weapon with evil intentions.