Japan's All-Nippon Airways has apologised after it received complaints over a "racist and offensive" advert.
Designed to promote an expansion of international flights, it shows two men in ANA uniforms discussing the new "exciting" routes to Vancouver and Hanoi. When one of them refuses a hug, the other says it is "such a Japanese reaction" and says they need to change the "image of Japanese people". The other man then appears in a blonde wig and an oversized fake nose.
Racism has been a long-standing issue in advertising, with a thin line between humour and offence. It's still an issue in the present day - and these commercials are our pick of the most ridiculous.
Coloreria Italiana: This company managed to turn a simple laundry product into a weirdly racist - and mildly sexist - abomination. It is seemingly innocent, but reports over the last few years have uncovered a serious racism problem in Italy. Cecile Kyenge, Italy's first black government minister, has previously had bananas thrown at her by right-wing opponents. Recently, she called for more effort to integrate immigrant communities into Italian society.
Ponds "White Beauty": This advert begins with a man leaving a woman at an airport. Heartbroken, she eventually moves on - to find out years later that her ex has married another, Caucasian woman. They awkwardly walk past each other in the street and she spots a commercial for the cream. Make of that what you will. The issue of whitening skin has been around for a long time. In 1978, Unilever launched Fair & Lovely cream - which spawned skin lightening face washes, shower gels and even vaginal washes.
Nivea "Re-Civilise Yourself": This advert showed a well-dressed African-American man throwing the head of an man with an afro. The aim? Re-civilise yourself by shaving. Not too many people saw it that way. The 2011 campaign was dropped after it was criticised for being racist. Nivea apologised, saying the ad was "inappropriate and offensive".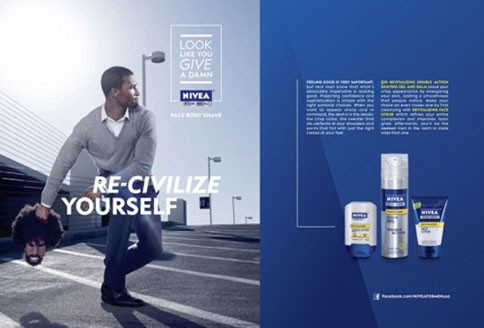 Sony's Playstation White: The campaign for a ceramic white Playstation, launched in 2006, is clearly racist. It features an aggressive-looking Caucasian woman dominating a subordinate African-American woman. It was panned pretty quickly after it was released by Sony, who apologised for its lack of sensitivity.