A woman and her two children drowned after their car plunged into a swollen river in Australia. Their bodies were recovered from Tweed River in northern New South Wales on Tuesday (4 April), increasing the death toll from the cyclone-fuelled floods that devastated parts of the country.
At least three other people have died in the floods after torrential rains and powerful winds lashed swathes of the mainland in Queensland and New South Wales states over the past one week. The extreme weather condition forced tens of thousands of people to be evacuated.
Australian authorities have not released the details of the latest victims, but local media reports suggest that the two children, a boy and a girl, are aged seven and 11 years respectively.
An eight-year-old girl, who was also part of the family, managed to escape from the car before it veered off a muddy road. She ran into a house for help and alerted passers-by. The incident is reported to have taken place on Monday (3 April) afternoon local time.
The girl was taken to hospital with neck pain and injury on her leg. She was then reunited with the rest of her family members.
"She had no life-threatening injuries, [but] cuts and scratches and she is obviously traumatised by the incident," chief inspector from NSW Police, Mick Dempsey told the Australian Broadcasting Corporation.
One of the local residents said the family had been involved in helping flood victims before the incident.
"Apparently they were down here helping everybody else and... cleaning up and were on their way home," the resident said.
Local people had tried to rescue the family but their car reportedly floated down about 40m from where it slid into the river.
"Even though we were diving down to the bubbles, we couldn't get deep enough to touch the car," Matt Grinham, who was driving down the road during the incident, told the news outlet. "It was just one of those things, I suppose. You just felt helpless; couldn't do anything."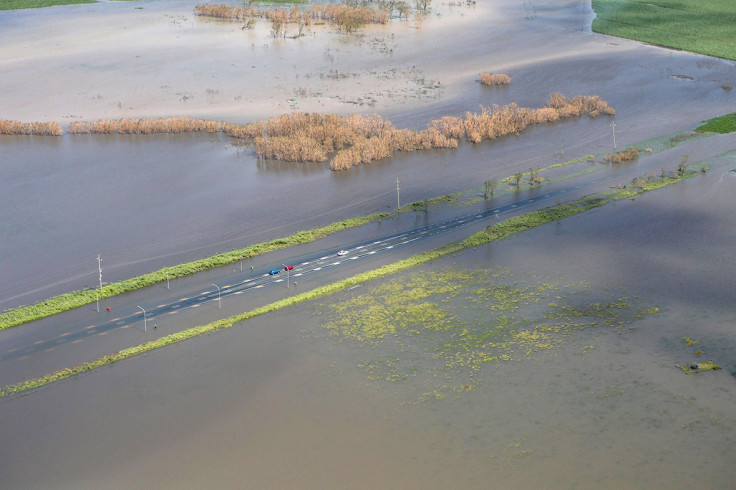 Police said the road that the family was driving on was closed at the time of the tragedy because of mud and debris.
Although Cyclone Debbie of category four strength was reduced to a storm last week, authorities warned that floodwaters in central Queensland could peak on 6 April morning, BBC reported.
The Fitzroy River in Rockhampton is expected to reach 9m, with hundreds of homes at risk of flooding.