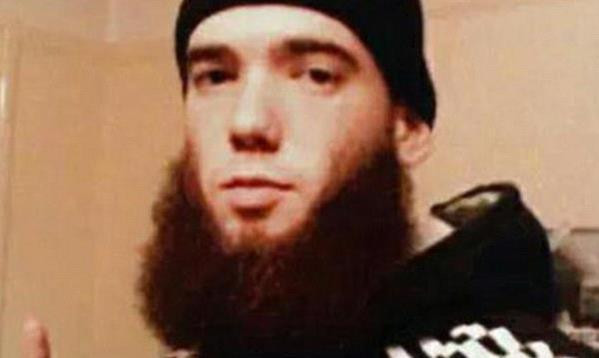 The mother of British jihadist Thomas Evans, says she is "both devastated and relieved" by her son's death. The Muslim convert from High Wycombe, Bucks, became radicalised in Britain and changed his name to Abdul Hakim. In 2011, he travelled to east Africa to fight for al-Shabaab.
Evans - known as the White Beast for his ruthlessness on the battlefield - became the first British extremist to be killed on Kenyan soil this June after he was shot down during a failed ambush on an army base.
His mother, Sally Evans, learned he had been killed after a picture of his body circulated on social media. She said she mourns and misses the child he once was , but is glad that the man he became is dead and is "burning in hell" for his crimes.
"Imagine discovering the death of your child on Twitter and being both devastated and relieved at the same time," Mrs Evans said. "Devastated because the child you brought into this world was killed after being brainwashed into pursuing a murderous cause. But relieved because the death of your child meant that he could no longer harm innocent people."
Mrs Evans, 57, a former teaching assistant, said she remembers her son as a little boy full of "cute mischief" who made mud pies in the back garden and won a WHSmith drawing competition with an illustration from Harry Potter.
A Manchester United fan, he spoke of wanting to become an electrical engineer with the Royal Marines so he could serve his country. Last year she told The Sunday Times how her son's character dramatically changed as he became radicalised after splitting from his long-term girlfriend and forming a friendship with a group of Muslim men at his local gym. He left the local mosque to attend an Islamic prayer centre "run from a room behind a shop".
He stopped listening to his favourite hip-hop music and watching television and grew a beard. He soon lost his apprenticeship after expressing extremist views at work. The son she knew was lost and he unsuccessfully attempted to convert her and his brother warning them that they would burn in hell if they did not.
"He would say, 'I want you to convert to Islam otherwise you will burn in hell' and 'I want us to meet in paradise so I want you to convert' and 'If you converted, you'd understand what I was doing'". Mrs Evans said: "I respected his right to be a Muslim ... but eventually he stopped respecting my right to be secular and repeatedly told his brother and I we were destined for hell unless we converted to Islam."
She and her other son Michael were confused as to how Thomas, who had used racial slurs to decry the growing Asian community in their hometown, became interested in Islam. "He almost went from one extreme to another," said Michael.
In 2011 he travelled to Egypt, telling his mother he was going to study Arabic, but the following year called to say he was in Somalia and had joined al-Shabaab. She revealed he maintained telephone communications with her and on Christmas Eve 2012, he phoned to tell her the shocking news that he had married a girl of 13 or 14 who could speak no English.
In subsequent phone calls, Evans praised the terrorist attack on the Westgate mall in Nairobi, which claimed more than 60 lives. He had hinted at the atrocities he intended to commit as he told his desperate mother he was preparing for "martyrdom". She said her 'shy and gentle boy' turned into the monster who 'murdered Christians and torched churches'.
He was killed four months ago during a raid on a Kenyan military base. His wife told Mrs Evans: "I'm happy he died a martyr fighting for what he believes in and I believe he is in paradise."
Evans allegedly took part in an attack on a Christian community of Lamu and beheaded a civilian. In a Channel 4 documentary, My Son the Jihadi, witnesses describe a white man fitting Evans' description who led terror attacks on Kenyan villages. They recounted how he singled out Christians and cut their throats.
Survivors of a massacre in the south-east of the country also described a white man who took a central role in the attack and operated as the group's second-in-command. "The attackers tied the man's hands and then the white man slaughtered the man from behind using his big knife. Then the white man took the small baby and looked to see if it was a boy or a girl. The white man said, 'She's a girl, let's not kill her,'" one said.
Another recalled the white man asking the names of villagers so he could identify them as Christian. "My friend was asked, 'What's your name?' by the white man. My friend answered 'Kamau' and the white man cut his throat and another attacker shot him."
Militant group al-Shabaab is responsible for a series of terror attacks in Kenya, including the attack on Nairobi's Westgate Mall in 2013 in which 67 were killed, and an attack on Garissa University in April in which 150 people were killed.
My Son the Jihadi is on Channel 4 on October 22.