A mother who was one of 26 killed in the Texas church shooting managed to save two of her children's lives by using herself as a human shield, family members have revealed.
Joann Ward instinctively pushed her nine-year-old daughter Rihanna to the floor and covered her three other children when killer Devin Patrick Kelley opened fire on helpless worshippers at First Baptist Church in Sutherland Springs on Sunday (5 November).
Ward died at the scene along with her five-year-old daughter Brooke; her seven-year-old daughter Emily died later at the hospital.
Family members say her actions saved Rihanna and five-year-old son Ryland.
"I didn't get shot because I was hiding, and momma covered Emily, Ryland & Brooke," Rihanna said, according to a Facebook post by a family friend.
Ryland was said to have been shot five times and was in critical condition after surgery.
"Ryland survived multiple gunshot wounds, went through extensive surgeries and will have a very long road back to full recovery," family friend Vonda Greek Smith added on Facebook.
The Wards were longtime members of First Baptist congregation in Sutherland Springs, a tiny town with a population of about 400 and roughly 20 miles outside of San Antonio.
"Joann was the most wonderful mom any child could wish for and her children were always laughing and loving life," Ward's uncle, John Alexander, wrote on a GoFundMe page raising money to help with funeral costs.
Ward's grieving husband, Chris, was at home sleeping off a night shift when the shooting happened, the Dallas Morning News reported
The children's aunt, Leslie Ward, heard the gunshots from her nearby home and awoke her husband, Michael.
He went to the church and carried out injured nephew Ryland in his arms.
Michael then went round to his brother's home to tell him of the tragedy that had befallen his wife and children. He was angry and didn't believe him, Michael said.
"I'm not lying to you, Chris, they're all shot," he recalled telling him.
In all, 26 people were killed by Kelley after he fired at least 450 rounds at worshippers. The dead ranged from 18 months to 77 years old and included multiple members of some families.
"Our church was not comprised of members or parishioners. We were a very close family," said the First Baptist Church pastor's wife Sherri Pomeroy, who, like her husband, was out of town when the attack happened. "Now most of our church family is gone."
The couple's 14-year-old daughter, Annabelle Pomeroy, was among those killed.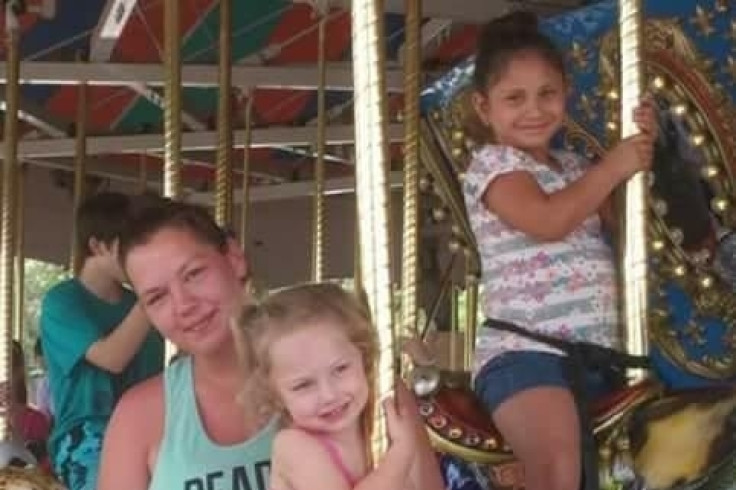 Kelley's mother-in-law sometimes attended services there, but the sheriff said she was not at church Sunday.
The massacre appeared to stem from a domestic situation and was not racially or religiously motivated, Texas Department of Public Safety Regional Director Freeman Martin said.
Based on evidence at the scene, investigators believe Kelley died of a self-inflicted gunshot wound after he was chased by bystanders, one of whom was armed, and crashed his car.
The 26-year-old shooter also used his cellphone to tell his father he had been shot and did not think he would survive, authorities said.
Kelley had a history of domestic violence that spanned years before the attack and had sent threatening text messages to his mother-in-law before the attack.
In 2014, he was ousted from the Air Force for a 2012 assault on his ex-wife in which he choked her and struck her son hard enough to fracture his skull.
The Air Force acknowledged on Monday that Kelley was able to purchase firearms because they had failed to submit his criminal history to the FBI, as required by military rules.
At a news conference in South Korea, President Donald Trump was asked if he would support "extreme vetting" for gun purchases as he's called for "extreme vetting" for people entering the country.
Trump responded by saying stricter gun control measures might have led to more deaths in the shooting because a bystander who shot at the gunman would not have been armed.
"If he didn't have a gun, instead of having 26 dead, you would have had hundreds more dead," Trump said.
The previous deadliest mass shooting in Texas had been a 1991 attack in Killeen, when a mentally disturbed man crashed his pickup truck through a restaurant window at lunchtime and started shooting people, killing 23 and injuring more than 20 others.