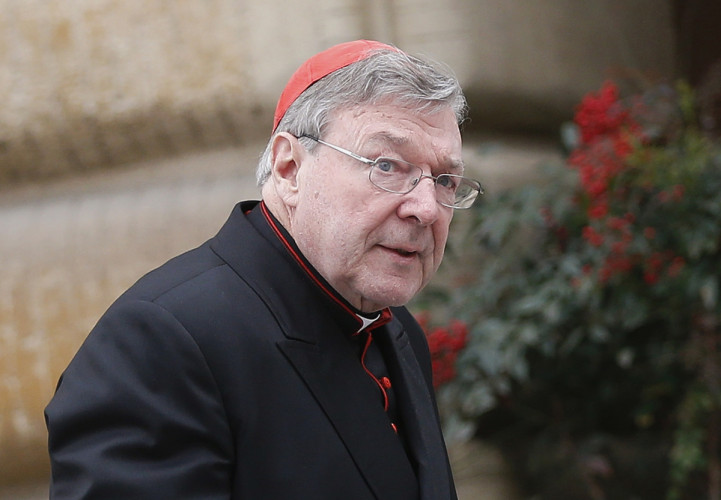 Australian police are investigating child abuse allegations levelled against cardinal Vatican treasurer George Pell, ABC reported on Wednesday (27 July). Two men – now in their 40s – have alleged that Pell had touched them inappropriately in 1978-79.
According to ABC, Pell was accused of sexually abusing the two boys while they were at a swimming pool in Ballarat, Victoria, where the cardinal had previously worked.
The report also alleged that he had appeared naked in front of three boys, who were no more than 10 years old, in a changing room on a beach in 1986-87. The news channel claimed it had eight police statements from the alleged victims, their family members and witnesses.
Victoria police have sent the statements to the Office of Public Prosecutions for evaluation, who will then decide whether to press charges or not. Victoria Police chief commissioner Graham Ashton was quoted as saying, "That's [the offences were] a matter that we investigated and still are investigating. We're waiting to hear back from them [prosecutors] at this stage."
When asked if pressing charges were a possibility, he added, "Anything is possible at this stage."
The 75-year-old cardinal has denied any wrongdoing and said that this was a "scandalous smear campaign" against him. His office in Rome released a statement which read: "The cardinal does not wish to cause any distress to any victim of abuse. However, claims that he has sexually abused anyone, in any place, at any time in his life are totally untrue and completely wrong."
The cardinal also faced accusations of paedophilia in 2002, when he was the Catholic Archbishop of Sydney, but was cleared of any wrongdoing at the time. In a statement to the Australian royal commission in February this year, Pell had stated that he was not aware of any paedophile priests operating in Ballarat Diocese, where he served as a priest in the 1970s and 1980s.
He was inducted in Rome in 1966 and returned to Australia in 1971, rising in the ranks to become a top Catholic official in the country. After being handpicked by Pope Francis, he left for Vatican in 2014 to overhaul its alleged murky finances.
The Archbishop of Sydney, Anthony Fisher, released a statement saying that the allegations "do not correspond with the George Pell I know".