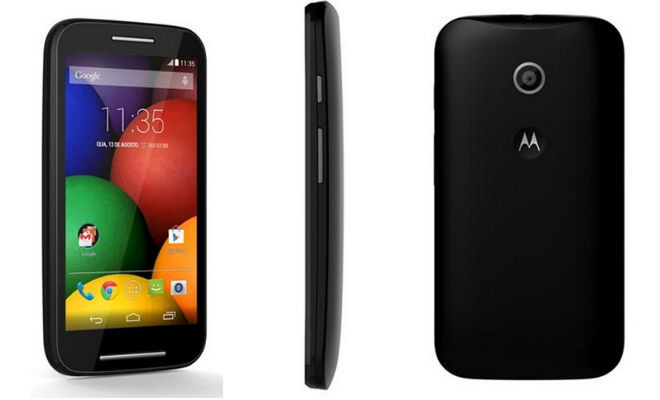 Motorola has just released two new handsets: the brand new Moto E and an LTE variant of their successful Moto G LTE, which came out last year. How are they different?
Display
The Moto G LTE LTE uses a 720 x 1280 pixels, 4.5 inch IPS LCD display that has a pixel density of 326 ppi. The handset's display was one of its biggest selling points, since its pixel density on paper is as good as heavyweights like the iPhone 5S (326 ppi).
The Moto E packs a decent 4.3 inch display with a 540 x 960 pixel resoluton and a pixel density of 256 ppi.
Design
Both handsets use a similar design, with the Moto G LTE being slightly larger by virtue of its slightly larger display. They both have a solid build, but are far from luxurious. Both handsets have changeable back covers, with a range of colour accessories to make the device your own.
Both handsets feature a 'water-nano coating,' which provides a measure of water resistance.
Hardware
The Moto E packs a 1.2GHz dual-core Qualcomm Snapdragon 200 processor, which is inferior to the 1.2GHz quad-core Qualcomm Snapdragon 400 processor on the Moto G LTE. The Moto G LTE will be the superior performer for multi-tasking since it has a more powerful processor.
Both handsets feature 1 GB of RAM.
Camera
Both handsets have camera units in the rear with 5-megapixel sensors. However, the Moto G LTE offers a 1.3 megapixel front camera, while the Moto E has no front camera at all. Also, the Moto E's rear camera has no flash, unlike the Moto G LTE.
Storage
The Moto E offers 4GB of internal storage space, while the Moto G LTE comes with 8GB and 16GB options. Both handsets come with microSD slots.
Battery
The Moto G LTE has a Non-removable Li-Ion 2070 mAh battery, while the Moto E has a 1980mAh battery. The difference between their capacities isn't much.
Price
The Moto E comes at a shocking £69 ($129) only, while the Moto G LTE is priced at £149 ($219).
Overall
In the end, it comes down to what you are looking for. For people who have an extremely tiny budget and don't mind slower processing, limited internal storage, lack of a front camera, and a decent (but not great) display, the Moto E makes for a high value buy. However, if you can shell out a few more pounds, then the Moto G is the better option.