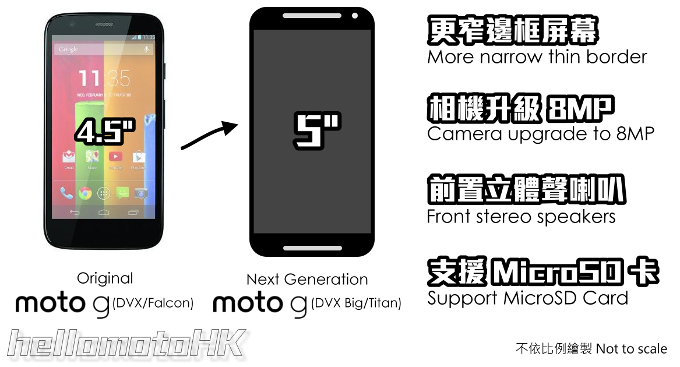 Anyone who cares about the Moto G knows that Motorola has a sequel lined up. Recently, the company hinted in an event invite that it will be launching a successor to the budget smartphone on September 4th.
The big question that many of you are asking is: should you buy the Moto G now or wait for the next-gen Moto G which is due to be launched next month? A new teaser of the phone from Hellomotohk explains the differences between the two phones. They appear to be extremely authentic. Check them out above.
The most important difference between the two happens to be that the newer phone, aka Titan, will have a larger 5in screen, as opposed to the original Moto G's (aka Falcon) 4.5in screen.
Apart from this, the new phone will sport a 8-megapixel camera; a set of front-facing stereo speakers; and even a slot for a microSD card (that was unfortunately not present with the Moto G).
And yes, for those of you who like mixing and matching, the Moto G2 will come with a removable back plate, meaning that users will be able to customise its looks with Motorola Shells.
Other rumoured specs include a quad-core Snapdragon 400 SoC, 1GB of RAM, and storage options of 8GB and 16GB.
It is rumoured that the Moto G will be available at a discounted price upon the launch of the next-gen Moto G in some regions. However, this can't be confirmed until Motorola confirms it in coming days.
Via PhoneArena