Following the soak test, Motorola has just begun rolling out the Android 5.1 Lollipop OTA update to its second generation Moto X smartphone (XT1092).
The OTA bumps the software version to 23.16.1 and build LPE23.32-25.1. Along with Android 5.1, the update brings better control over notifications and device protection to keep the phone locked even if it is stolen and reset to factory settings.
XDA forum member grubber24, who has shared a few screenshots of the stock firmware update also highlighted a few new features added in this release such as:
OEM unlock in Developer Options
Unpinning of screen requires secured PIN used to unlock the phone
Chop to turn on flashlight
New settings for sounds and notifications
Meanwhile, forum member noemi.abril has captured the OTA link for those who are yet to get the update notifications. Using the download link you can manually install the stock firmware on Moto X (2nd Gen).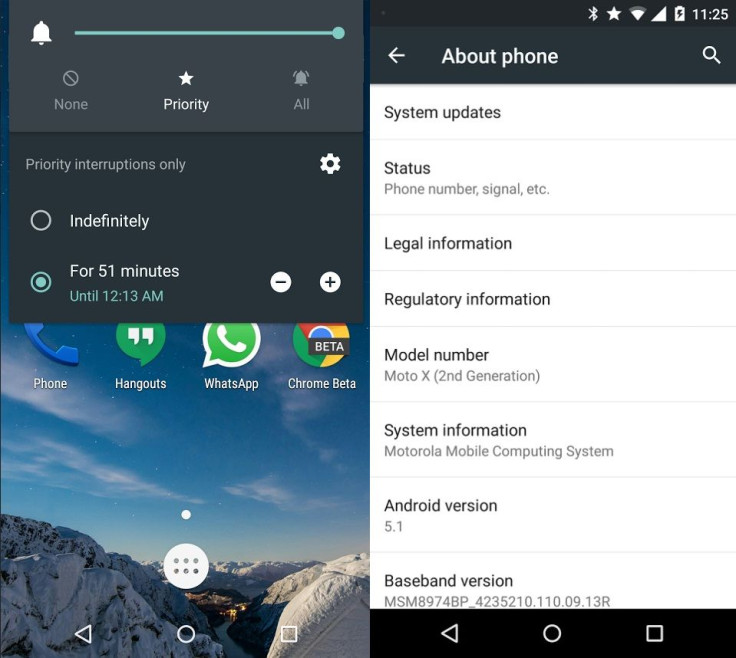 Firmware details
Kernel version 3.4.42, Date Friday May 8 14:38:50 CDT 2015
System version: 23.16.1.victara_reteu.reteuall.en.EU
Build number: LPE23.32-25.1
Official OTA
no root
Note that the following OTA link is compatible with select models including retfr, reteu, retde and retain. Refrain from installing the update on your phone if it does not belong to any of the aforementioned models.
As this is stock OTA firmware, your device should be unrooted and must have stock recovery to install this. Check the model number of your Moto X from Settings>> About phone. It should be XT1092. Do not forget to create a backup of the current phone set up.
Download link: Android 5.1 OTA
file name: Blur_Version.22.121.1.victara_reteu.reteuall.en.EU.zip
How to install Android 5.1 Lollipop OTA on Moto X (2nd Gen) XT1092
Step-1: Connect your Moto X to the PC using USB
Step-2: Copy the downloaded files to the phone's internal storage and remember the location
Step-3: Disconnect the phone from the computer and reboot into recovery mode
Press and hold Volume and Power buttons until you see something on the screen, this is bootloader mode
Now using the Volume Down key scroll down to Recovery and select it using the Volume Up button and reboot the phone into recovery mode
You should see an Android logo with exclamation mark. Press the Volume buttons for about five seconds and while holding them press the Power button. You should see the stock recovery and its options
Step-4: In recovery mode, choose install update from sdcard
Step-5: Using the Volume buttons head over to the location where you have saved the OTA file. Select it using the Power button and confirm installation
Step-6: When installation is complete, return to the main recovery menu and select reboot system now
Once the phone boots up successfully, check its software version, it should be Android 5.1.
Source: AndroidSoul