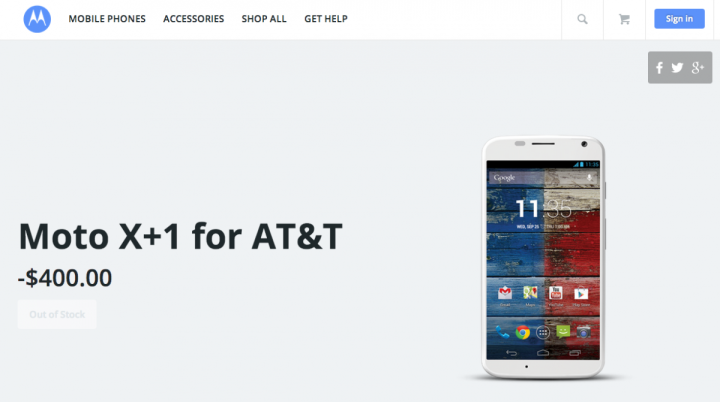 If there is another Motorola smartphone that is getting more attention than the extremely affordable Moto E, its the unannounced Moto X+1. Now, a new report from PhoneArena carries the leaked specifications of the upcoming flagship smartphone.
The leaks come from the Logos Bookstore, which is in the middle of constructing a pre-order page for the new Motorola handset. The information can be trusted since the Bookstore was the one that accurately leaked information about the Motorola Moto E two days before its entry-level model was introduced.
The leaked specs indicate that the Moto X+1 will feature a 5.2 inch screen with a resolution of 1080 x 1920. The handset will use one of the best processing packages available in the market: the quad-core 2.3GHz Snapdragon 800 along with 2GB of RAM and 32GB of native storage on-board. And if users need more room for their data, there is a 128GB capacity microSD slot as well.
For imaging, there is a 12MP camera in the rear and a powerful 5MP camera upfront for some high quality selfies. The smartphone will also house a 2900mAh cell, which should easily allow it to offer more than a day of battery life. Android 4.4.4 will be pre-installed on the handset during launch.
Previously, several leaked pictures and videos of the handset have appeared online. They show off the handset and its many features. Apart from this, Motorola has also confirmed the handset accidentally on several occasions. Currently, rumours indicate that the handset has been codenamed Victara.