Mountain climbers' bodies uncovered 'encased in blue ice' 16 years after disappearance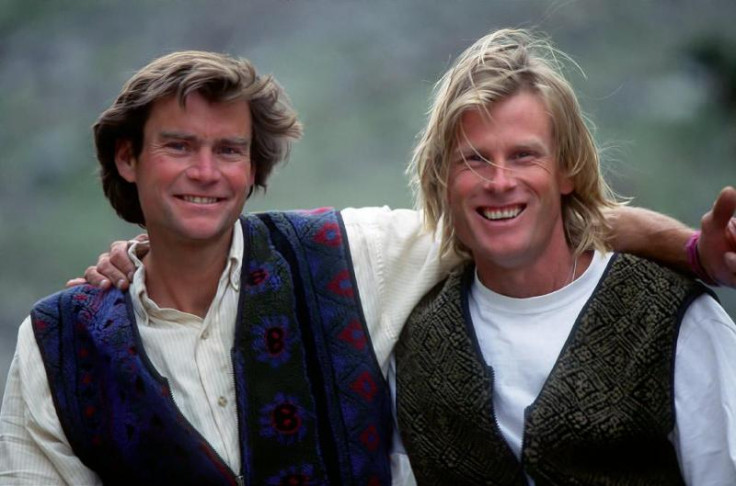 The remains of acclaimed mountain climbers Alex Lowe and David Bridges have been discovered 16 years after their disappearance in the Himalayan mountains. The duo were buried alive in an avalanche in Tibet's Shishapangma in October 1999. Their fellow companion and third climber of the party, Conrad Anker, sustained injuries but was able to escape to safety.
Lowe and Bridges' bodies were found by David Goettler and Ueli Steck, German and Swiss alpinists respectively, on 27 April, according to Outside magazine. The duo discovered the climbers' remains "still encased in blue ice" within a melting glazier. Goettler and Steck described the clothing and backpacks that were found on the remains to Anker, who then identified them as Lowe and Bridges.
Lowe's widow Jennifer, who married Anker in 2001, said in a statement: "Alex and David vanished, were captured and frozen in time. Sixteen years of life has been lived and now they are found. We are thankful. Alex's parents are thankful to know that their son's body has been found and that Conrad, the boys and I will make our pilgrimage to Shishapangma. It is time to put Alex to rest."
Fellow climber and friend Anker said: "After 16½years, this brings closure and relief for me and Jenni and for our family."
Lowe, 40, and cameraman Bridges, 29, along with Anker were part of the nine-member American Shishapangma Ski Expedition. The aim of the expedition was to achieve the first American ski descent off the 8,000m mountain peak. However, on 5 October, while Lowe, Bridges and Anker were crossing a glacier at 19,000 feet, they were struck by an avalanche, which buried Lowe and Bridges. Anker, who was also partially buried and sustained broken ribs and a head gash, was somehow able to walk to safety. However, despite conducting an almost two-day search, Lowe and Bridges were not found.
"It's kind of fitting that it's professional climbers who found him," Anker added. "It wasn't a yak herder. It wasn't a trekker. David and Ueli are both cut from the same cloth as Alex and me." Lowe's widow Jennifer, her three sons and Anker plan on returning to Tibet in the summer to recover the bodies and hold a ceremony in a nearby town.
© Copyright IBTimes 2023. All rights reserved.