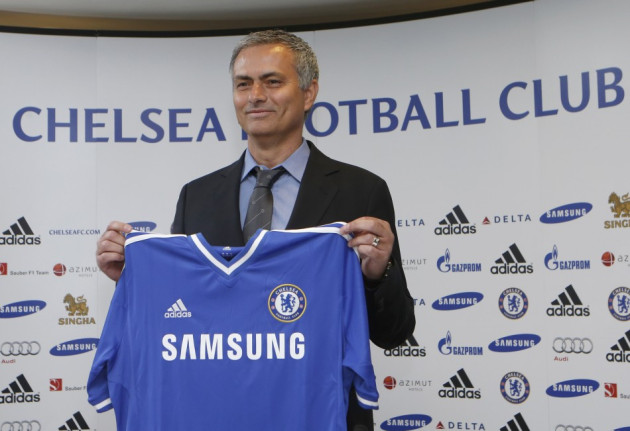 New Chelsea manager Jose Mourinho has denied a break-down in his relationship with club owner Roman Abramovich contributed to his departure during his first spell at Stamford Bridge in 2007.
Upon being unveiled as The Blues' permanent manager six years on from his removal as boss, Mourinho fielded questions regarding his rapport with the Russian owner, which was described as having broken down prior to his departure.
But the 50 year old says that his relationship with the owner is as strong as ever, and that his return to Chelsea was dependent on the pair retaining mutual respect for one another.
"That is not true (my relationship with Abramovich broke down)," Mourinho said.
"I read that I was fired and we had a complete breakdown in relationship, that was not true. At the time we thought it was the best for both of us.
"It was a decision that was difficult for both of us but a decision made by mutual agreement. There was never a break of the relationship and that is why it was possible for me to be here today.
"I am back because we feel we are in a moment of my professional life and in the case of the owner, also a moment in his career as owner, where I think we are in the best moments of our careers and ready to work together again and in much better conditions this time and to succeed in what this club wants, which is stability.
'The Special One' was unveiled with much fanfare during his first press conference in 2004, with his enigmatic approach defining his first spell in the Premier League. Mourinho now claims he has changed as a person.
"If I have to choose a nickname for this period. I would choose the happy one," he added. "I am very happy. I was two years at Inter and three at Madrid, five years in a managerial career is a long time. Football is an industry where you learn a lot of yourself and learn a lot every day.
"My beginning in 2000, when I was managing for the first time I thought I knew everything but after 13 years you realise you know nothing and have to learn every day. My adventures around Europe were fantastic for me, different countries, different cultures, different media. It was fantastic.
"At 50 I think I am still very young as a manager and I think it was like the beginning of a new period. Do I have a different personality? No, but for sure I have a different approach and perspective."