Former world heavy weight champion, Mohammed Ali has died at the age of 74, following a respiratory condition that was complicated by Parkinson's disease. He was diagnosed with the disease in 1984.
His family, who have alreadystarted preparing for his funeral, said that Ali's final rites will take place in his hometown of Louisville, Kentucky.
As news of the legendary boxer's death emerged, many famous personalities including Barack Obama, Mike Tyson, Donald Trump, Frank Bruno and cricketer Virendra Sehwag among others have taken to Twitter to pay tributes to Ali.
The US President Obama said Ali "shook up the world and the world is better for it".
He added that the boxer "fought for what was right" inside the ring as well as out of it, with his political views against the Vietnam War and the US civil rights movement.
"He was probably the greatest man I've ever met," George Foreman, a former boxing champion told BBC. "You met Muhammad Ali and you became better because of his presence. He meant so much to so many people that he will never die, really."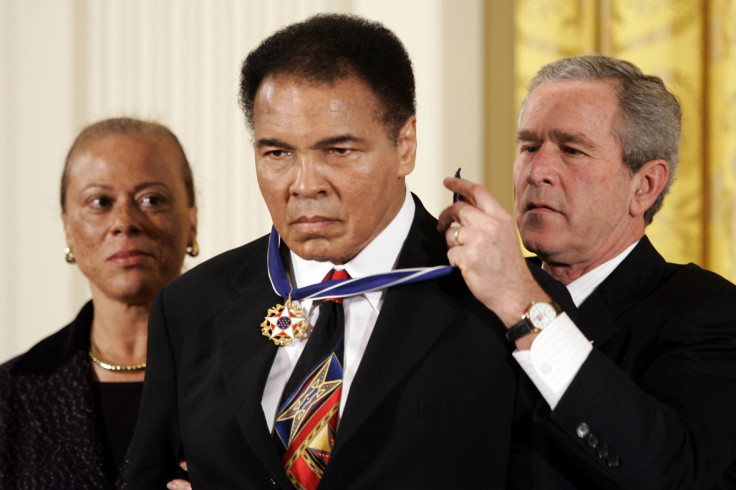 After becoming the first black president of the US, Barack Obama said, "Muhammed Ali, one of the most recognisable faces on earth is one of my inspirations."
Speaking to Fox News, boxing champion Floyd Mayweather said: "There will never be another Muhammad Ali. The black community all around the world, black people all around the world, needed him. He was the voice for us. He's the voice for me to be where I'm at today."
On behalf of Congo's government, spokesman Lambert Mende expressed his sympathy for Ali's family. He told: "This is someone who helped make our country visible in the 1970s. This is someone who built a bridge between African-Americans and Africans. He will always have an important place in the hearts of the Congolese."
Former world featherweight champion, Barry McGuigan told the BBC, "He was just the greatest sportsman that has ever been and we are very lucky that he happened to be involved in our sport. He was a very special man."
In celebration of the boxing legend's 50 years in the sport, Obama told the USA Today in 2010, "I was too young to remember Clay [Cassius Marcellus Clay Junior - Ali's birth name] before he became Muhammad Ali, when he was not only the heavyweight champion of the world but also at times the object of controversy and even scorn. And I was still in grade school when Ali made his extraordinary comeback after nearly four years of exile and later shocked the world by winning his title back."
Here are some more reactions:
Obama had then said he had the famous photograph, which showed Ali standing over his opponent Sonny Liston, hanging on his wall. Ali had knocked out Liston in the first round of their rematch in May 1965. It was marked as one of the most anticipated fights in Ali's life albeit with controversies.