Former world heavyweight boxing champion Muhammad Ali has died at the age of 74, a family spokesperson confirmed on 3 June. Thousands of tributes have poured in from fans, celebrities and sporting personalities, each praising the athlete's successful career.
Ali has been ranked as one of the best boxers of all time, defeating every top heavyweight in his era and being voted as BBC's Sports Personality of the Century. The former champion retired in 1981 having won 56 of his 61 professional fights.
However, Ali's boxing career wasn't the only thing that defined him. The boxer was well known for his outspoken political views, particularly on the Vietnam War, as well as his conversation to Islam at the age of 33.
IBTimes UK rounds up everything you need to know about the former heavyweight champion's political stance, including the time his views prevented him from boxing for three years.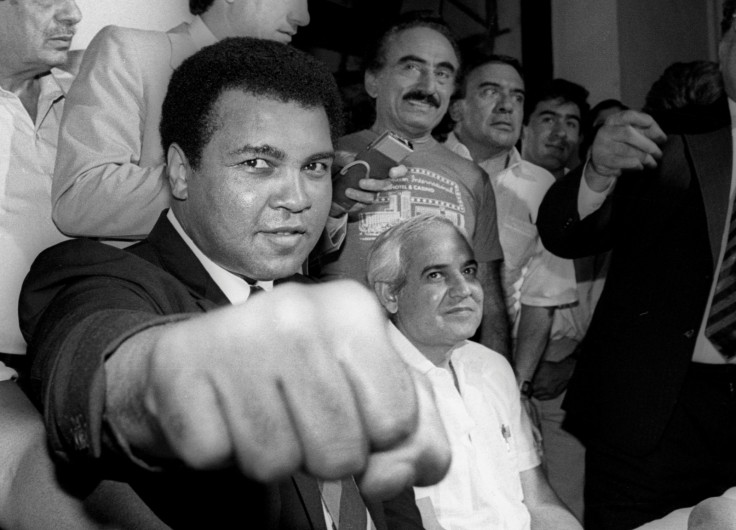 Becoming Muhammad Ali and converting to Islam
Muhammad Ali was born Cassius Clay Jr in Louisville, Kentucky to a Baptist family. However, in 1962 the boxing champion met black civil rights leader Malcolm X and began a relationship with the organisation the Nation of Islam.
In 1964, Ali publicly acknowledged that he was a member of the religious movement and his spiritual mentor, Elijah Muhammad, gave him his new name: Muhammad Ali. Although Malcolm X quit the Nation of Islam soon after Ali joined, Ali stayed on with the group and went on to cause controversy by declaring white people as his enemy.
At the time, Ali said: "We who follow the teachings of Elijah Muhammad don't want to be forced to integrate. Integration is wrong. We don't want to live with the white man; that's all. Cassius Clay is a slave name. I didn't choose it and I don't want it. I am Muhammad Ali."
In 1975, Ali formally converted from Sunni Islam and to Sufism in 2005.
Battle with the US government over the Vietnam War
It was Ali's dedication to his religion that landed him into trouble with the US government. After the US became involved in the Vietnam War in 1965, Ali received a notice drafting him into the US Army in 1967. However, he refused to serve in the military based on his religious beliefs, saying that he would not cooperate with the US government in oppressing another race of people.
During his public statement on his opposition to the Vietnam War, Ali said: "I will not disgrace my religion, my people or myself by a tool to enslave those who are fighting for their own justice, freedom and equality."
Ali was stripped of his boxing championship, fined $10,000 and sentenced to five years in prison on draft evasion charges before his conviction was overturned three years later. As Ali's appeal worked its way up to the Supreme Court, the athlete was denied a license to fight in the US, as well as a right to travel abroad. He spent this time touring colleges and speaking out on a variety of political issues.