Multi-faith groups form protective circle around Canadian mosques following Quebec shooting
These 'rings of peace' were in response to an attack on a prayer centre on 29 January in which 6 men were killed.
While in the US, people took to the streets to protest against Donald Trump's immigration ban and its effect on Muslims, across the border in Canada, mutli-faith groups took to the streets in a moving show of solidarity with the country's Islamic community. Hundreds of people joined in to form protective circles around mosques in Toronto, Edmonton and St John's so that Muslims could attend their Friday prayers safely.
A group of Toronto-based Jewish organisations, led by Rabbi Yael Splansky of Holy Blossom Temple, organised "rings of peace" in response to the deadly shooting at a mosque in Quebec on 29 January in which six men were killed. "No Canadian should be afraid to go to their house of worship to pray," Splansky explained to local media. "It's a terrifying scene. Imagine people of faith going to pray in peace, to pray for peace, and to be at risk. Houses of worship are sacred and must be protected."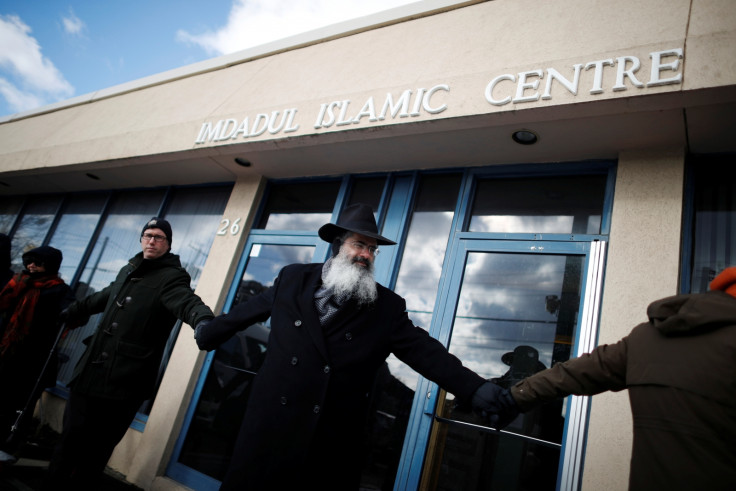 People from different religious communities stepped out to support the initiative and held hands as they greeted Muslims attending Jum'ah (congregational prayer) on 3 February. "I was surprised and I can't believe that I'm seeing this," said Ahmed Jomha, one of the Muslimswho stepped out to attend the service at a mosque in Edmonton. "It's amazing to me to see this show of support from different people coming together. I can't explain it."
A spokesperson for Ahmadiyya Muslim Jama'at, an Islamic organisation in Toronto, was also moved by the show of love. "It just goes to show the true spirit of Canadians and how inclusive and multicultural they are," Jari Qudrad said. "They're always willing to help out and stay united."
In order to help non-Muslim people get a better understanding of the religion, the organisation started a "visit a mosque" campaign which invited Canadians to visit prayer centres around the country and meet with members of the congregation.
The peace rings were inspired by similar events in Oslo in 2015. Anti-semetic attacks in Denmark and France were on the rise and Muslims created protective circles around a synagogue in Norway's capital city so that Jews could pray in safety. Splansky said that this act of brotherhood was the inspiration behind the peace rings in Toronto.
© Copyright IBTimes 2023. All rights reserved.