Texas Governor Greg Abbot said 26 people where killed during a shooting inside a Baptist church near San Antonio on Sunday (5 November).
Witnesses told local media that a man walked into First Baptist Church in Sutherland Springs, around 40 miles east of San Antonio, and began shooting around 11.30am local time, KSAT reported.
Authorities said there are "multiple casualties and fatalities" at the church, including children. It is the deadliest mass shooting in the state's history, the Associated Press (AP) reported.
Police said the suspect, who was identified by two officials as Devin Kelley, is dead, and there is no longer an active shooter threat.
In an interview with CBS News, Wilson County commissioner Albert Gamez Jr said there were at least 27 dead in the shooting. That number was later amended to 26 by the governor.
"The details are kind of sketchy, but what I know right now, what they're telling me, like 27 deceased and over 20, 25 injured," Gamez Jr said, according to the BBC. He confirmed that the suspected shooter was also dead.
A hospital 10 miles from the shooting, in Floresville, said there were "multiple" victims with gunshot wounds who are being treated in hospital. Connally Memorial Medical Centre spokeswoman Megan Posey did not confirm how many patients were being treated at the hospital, but told the AP the number was less than a dozen.
The church's pastor, Frank Pomeroy, and his wife, Sherri, told the AP that they were out of town in two different states when the attack happened. "We lost our 14 year old daughter today and many friends," Sherri wrote to the AP in a text message. "Neither of us have made it back into town yet to see the devastation. I am at the charlotte airport trying to get home as soon as i can."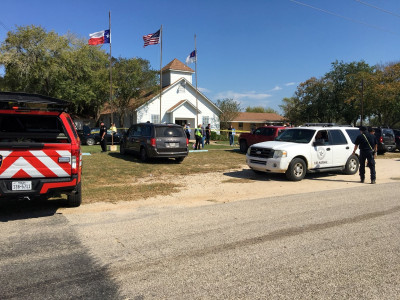 As many as 20 shots were fired, according to witnesses, but that has not been confirmed by police.
"We heard semi-automatic gunfire ... we're only about 50 yards away from this church," witness Carrie Matula told NBC News. "This is a very small community, so everyone was very curious as to what was going on."
The San Antonio branch of the FBI said it had deployed agents to the scene. The federal Bureau of Alcohol, Tobacco, Firearms and Explosives is also sending field agents from its Houston and San Antonio offices, ATF spokeswoman Mary Markos told the AP.
Authorities are looking into the gunman's motivation for the deadly shooting spree.
Governor Abbot said on Twitter: "Our prayers are with all who were harmed by this evil act. Our thanks to law enforcement for their response." The governor said that more details would be released by the Texas Department of Public Safety.
President Donald Trump, who is currently in Japan for his tour of Asia, tweeted about the shooting. "May God be w/ the people of Sutherland Springs, Texas. The FBI & law enforcement are on the scene. I am monitoring the situation from Japan," he said.