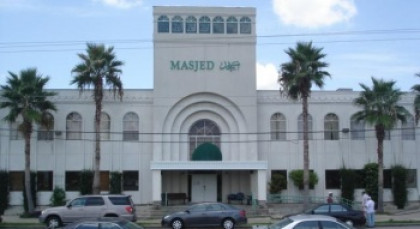 A Muslim doctor on his way to prayer at a Texas mosque was shot and stabbed by three masked men. Optometrist Arslan Tajammul managed to stumble to the door of the mosque where he handed his phone to another worshipper who called the police.
Tajammul is expected to survive two bullet wounds and the stabbing although he is still in a critical condition. The attack comes the day after another Muslim man was beaten outside a Florida mosque.
"It is very scary right now given the current political climate," said Mohammed Imaduddin, a spokesman for the Madrasah Islamiah Masjid Noor mosque where the attack occurred. He said there were children nearby when the doctor was attacked.
"Please do dua of Shifaa" — which is a Muslim prayer for healing — "for my beloved student Dr. Arslan Tajammul who is going through surgery right now", mosque imam Mohammed Wasim Khan posted on Facebook from a local hospital.
"I urge my Houston Muslims and Muslims in America in general to be vigilant and take necessary precautions."
Houston police are still investigating the attack and say there is no indication that it was a hate crime. They believe it was a robbery attempt. But mosque members told ABC 13-TV that Tajammul was on his way to prayers and that nothing was stolen from him.
None of the three suspects have been apprehended. Another Muslim man was attacked the previous day on 2 July outside Florida's Fort Pierce Islamic Center, the mosque attended by Orlando nightclub terrorist Omar Mateen. Police found the victim bleeding from the mouth.
Taylor Mazzanti, 25, was arrested in that attack and faces a felony battery charge.
St. Lucie County Sheriff Ken Mascara also said in a statement that attack was not considered a hate crime because interviews with witnesses: "Do not indicate any racially motivated comments were made by the suspect prior to, during or after the incident."
But at least one witness discounts that conclusion, and members of the Muslim community are planning to file a complaint against the police with the US Justice Department for failure to increase security at the mosque, according to the Palm Beach Post.
The previous attack concerning a mosque in Houston was a Christmas Day fire in 2015 that police believe was intentionally lit. In other anti-Muslim violence, a car was firebombed days previously outside a mosque in Perth, Australia, where hundreds of Muslims were praying.