Muslims converge on Downing Street to protest against Charlie Hebdo Mohammed cartoons
Muslim protesters hold placards quoting Pope Francis: 'Insult my mum and I will punch you'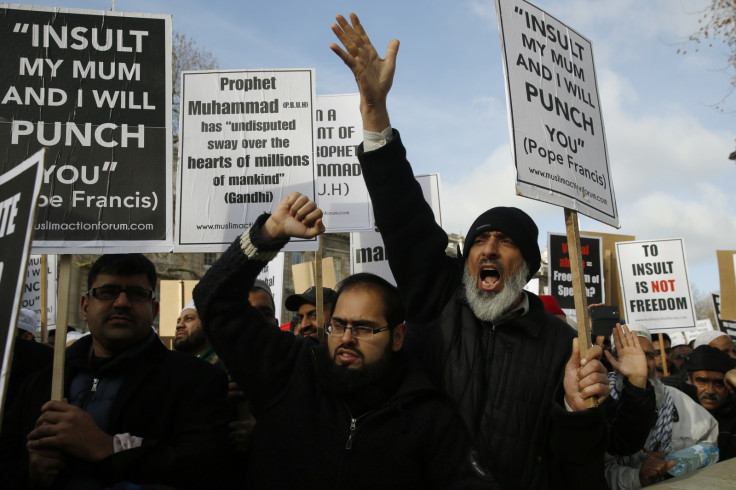 As many as 3,000 Muslims have converged on Downing Street from across the country to protest about the cartoons of the Prophet Mohammed being published in Charlie Hebdo magazine.
Many of those present carried placards quoting the controversial comment by Pope Francis in which he said: "Insult my mum and I will punch you." Most of the protesters were divided into separate groups for men and women.
Up to seven coachloads of those present are said to be from Derby's Jamia Mosque. Secretary Nazir Hussain said the 400 protesters were travelling to London to express disapproval over cartoons published by Charlie Hebdo, where 10 journalists and two others were killed by the Kouachi brothers.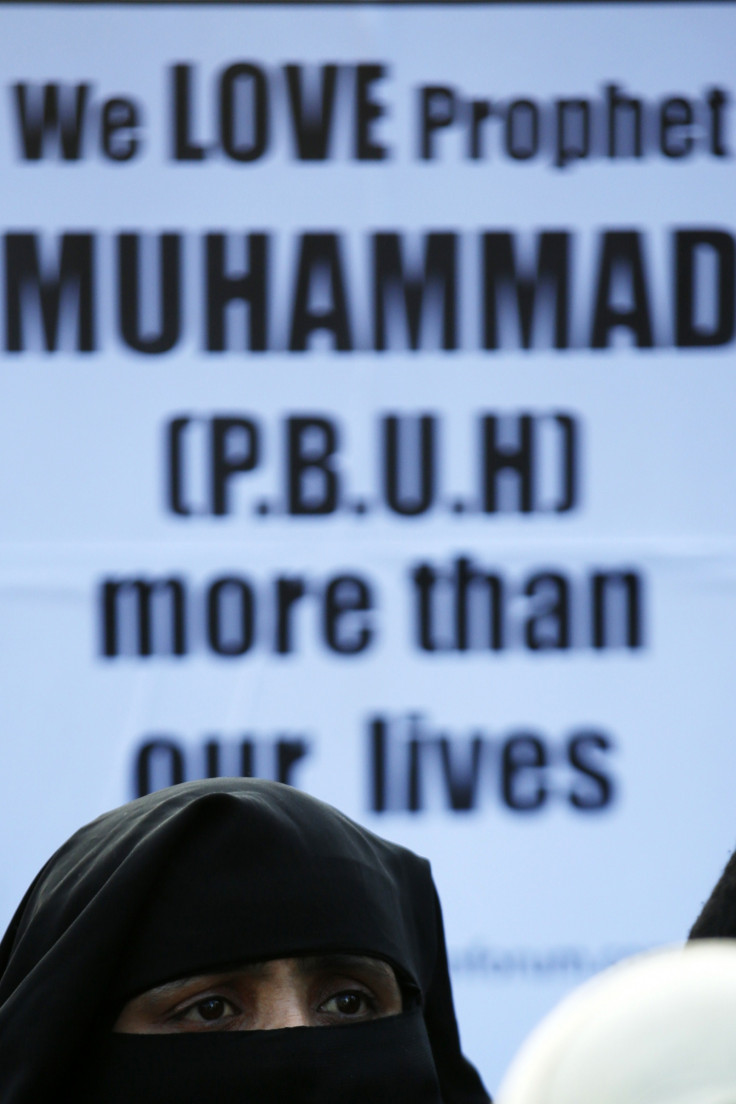 Many of the Muslims protesting against cartoons were separated into men and women
STRINGER/AFP/Getty Images
The Derby protesters were traveling, said Mr Hussain, as a way of expressing disapproval over the cartoons. "There are no pictures of the beloved Prophet," he told the Derby Telegraph, "and trying to make their own view of him is incorrect and offensive to the Muslim community. For us, it is blasphemy."
The event was organised by the Muslim Action Forum who said they were marching for "global civility".
On its website the group is running a petition which among other demands states: "I denounce the actions of all those people who are connected with the production of the cartoons of the Holy Prophet Muhammad, peace be upon Him, and believe that these actions are an affront to the norms of civilised society." Over 100,000 people have signed.
A small crowd of counter-demonstrators from the controversial Britain First organisation were also evident at today's march.
The group photographed themselves burning a placard allegedly seized from Muslim protesters which read: "freedom of speech = hatred to Muslims."
The journalists at Charlie Hebdo were murdered for depicting cartoons of the Prophet Mohammed. In the first issue following the attack the magazine again depicted Mohammed on its cover, with the heading "all is forgiven".
This led to protests in Muslim countries across the world in which several people died.
Although depictions of Mohammed are said to be forbidden in Islam, early Islamic art does depict the Prophet.
Yesterday, a Danish Imam told broadcaster DR that only Muslims were forbidden from depicting Mohammed.
Today's protest at Downing Street comes as Prince Charles voiced his concern both at the radicalisation of many young British Muslims and the persecution of Christians in the Middle East.
© Copyright IBTimes 2023. All rights reserved.