Being of Irish heritage, I thought it might be fun to go to a St Patrick's Day celebration over here this year. Not that I can say I've ever bothered much in the UK, but being an ex-pat can generate its own strange nostalgias, it seems.
And for a country in which I've yet to hear an Irish accent beyond that of a visiting nun who I helped with the niceties of buying lemons in my local Pick n Pay supermarket the other day, there did seem to be a veritable wealth of options to choose from – at least half a dozen in Johannesburg anyway, which was half a dozen more than I'd expected.
One pub, the Pound & Penny, which is part of the Sunnyside Park Hotel in nearby Parktown, was even pushing the idea of March being 'Irish month', which is a new one on me.
I must admit that I can't remember so much fuss being made of Paddy's Day when I was younger.
The only thing that we did to mark the occasion when I was a kid was to wear a clump of wilting shamrock attached to a bit of ribbon in the colours of the Irish tricolour with a tasteful golden harp stuck on, which my grandma had sent over from God knows where in Ireland. That, and being dragged off to mass in the morning, of course.
So hats off to the Guinness empire and the fake themed Irish pub phenomenon for making brand Ireland so recognisable, even in a country such as South Africa, where as far as I can gather there has never been any mass migration from the Emerald Isle, even during the desperate years of the Irish Potato Famine in the mid-1800s.
Nonetheless, incidental immigration has meant that there is a reasonably sized Irish community here in Joburg apparently – although I can't say that I've ever spotted it.
The same is true of Cape Town, Port Elizabeth (Eastern Cape) and Kimberley (Northern Cape), while places like Durban and East London, again in the Eastern Cape, allegedly host other smaller enclaves.
And here's a couple of pertinent Irish factoids for you – about a third of the governors of the original Cape Colony were from Ireland, while both the Cape Colony and the Colony of Natal enjoyed the ministrations of Irish prime ministers: Sir Thomas Upington, the so-called "Afrikaner from Cork", and Sir Albert Hime from County Wicklow. So there you go.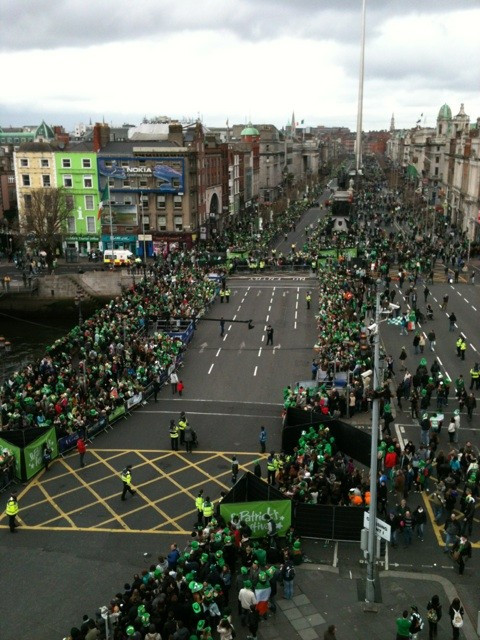 Ultimate Irish Concert
With such heady facts in mind, my Beloved and I decided to give the first ever Irish festival to be hosted at the Montecasino casino and entertainment complex in Fourways a go.
Billed as a four-day event from Friday 14 March until the great day itself, three days later, the highlight was the "not-to-be missed Ultimate Irish Variety Concert" on the Saturday night.
And I can quite honestly say that I've never seen anything quite like it. To give a taste of the breath-taking cheesiness of it all, the ubiquitous slogan, which of course included an image of the inevitable leprechaun, was "Green is in me blood".
To make matters worse, the compere, on discovering that there was literally only one authentic Irish person in the audience, forced her into judging the most mortifying let's-take-off-an-Irish-accent competition ever.
Personally I would have bestowed the prize - one of four hampers donated by Guinness - on the female competitor who gave up before she began and, thankfully for the audience, didn't even try.
As for the opening acts, they included a comedian who kept making inappropriate jokes about suicide bombers; a couple of astoundingly bad breakdancing acts dressed in green ties and braces, and a group of girls wearing green shiny sashes who, among other things, sang the Snowman film's Walking in the Air song.
If any of them had a drop of Irish blood in them, knew where Ireland was, or could even explain their relevance to the proceedings, quite frankly I'd have been amazed.
Wearing of the Green
Happily though, we were treated to a troupe of Irish dancers who added a vague bit of authenticity to the event, even if they did grin too much and waft their arms around in defiance of the rigid-upper-body-and-arms-straight-by-your-sides rule.
But at least the headline act in the shape of musical trio, Ballyhoo, was Irish, which was something. And at least they had the decency to grace us with those old stalwarts, Danny Boy and the Irish rugby anthem, so that some of us could sing along.
I kept being distracted by the bizarre sideshows going on around me. There were the people with dwarfism dressed up as leprechauns, who kept having their photos taken with groups of giggling women – something that I can't believe you'd ever get away with in the UK.
There were the Barbie doll-esque young females wearing tables for a skirt and selling shot glasses-full of Bailey's to already inebriated (predominantly male) punters.
And then there were the wraith-like girls with, it must be said, fabulous figures, sporting white painted faces, wigs and shamrock-festooned body stockings, who kept floating around the place and looking rather sinister.
It was all slightly surreal and bizarre, and certainly like no St Patrick's Day celebration that I'd ever witnessed before. Still, after recovering from my initial disbelief, I started to get quite into it, in a strange, kitsch kind of way.
Not so my Beloved though. "Ready when you are," he said hopefully, after an hour or so of this. And "ready when you are", he kept repeating at 10-minute intervals until finally I took pity on him and we departed a mere couple of hours into the proceedings - although everyone else was definitely set for the night.
Still, if I think about it, I'm not sure that elasticated St Patrick's Day ties, floppy hats with leprechaun ears attached and deely boppers with 'Kiss me, I'm Irish' written on were quite what anti-British rebels had in mind when they penned their still-enduring pub classic, "The Wearing of the Green".
Cath Everett is a resting journalist who has written about business, technology and HR issues for over 20 years. She recently moved from the UK to South Africa with her husband