It's always nice to get away from the hustle-and-bustle of city life for a while – even if that city happens to be as green and tree-lined as Johannesburg - in its northern suburbs anyway.
Hence the popularity of Hartbeespoort Dam or 'Harties' as it's known locally, which is about an hour's drive northwest and has become a daytrip and weekend getaway haven for Joburgers and Pretorians alike.
In fact, it's the main water sports spot for northern Gauteng, which means that you're always likely to come across a bunch of intrepid visitors busy sailing, wind-surfing, jet-skiing or hang-gliding on or around its waters.
Either that or stuffing themselves silly over Sunday lunch in one of the many and varied restaurants dotted around its rather built-up, holiday home and B&B-lined shores.
And this all on the slopes of the ancient, and protected, Magaliesberg mountain range –which, amazingly, is one of the oldest in the world coming in at about three billion years old, give or take a millennium or two.
But throwing yourself into the dam for a pre-prandial swim without a wetsuit, sadly, appears to be a bit of a foolhardy thing to do. For years apparently, its waters have suffered from a heavy algae build-up due to high levels of sewage being pumped into it from its main feeder, the Crocodile River.
Although the Department of Water Affairs' 'Integrated Biological Remediation Programme' seems to have improved things recently, and even won it international recognition, the dam still goes through phases of not being quite as clean as it could be.
Which is all a bit worrying really seeing as it irrigates vast expanses of local farmland, on which wheat, fruit, alfalfa for cattle fodder, and even tobacco, are grown. No wonder so much fruit and veg packaging in this country comes with warnings to wash before use.
One place that you don't have to worry about the food quality though is at 'Tan Malie se Winkel', or 'Aunt Malie's shop' in Afrikaans.
Located on the Old Rustenburg Road not far from a bridge spanning the Dam boasting its own incongruous version of Paris' Arc de Triomphe, it is a veritable local institution.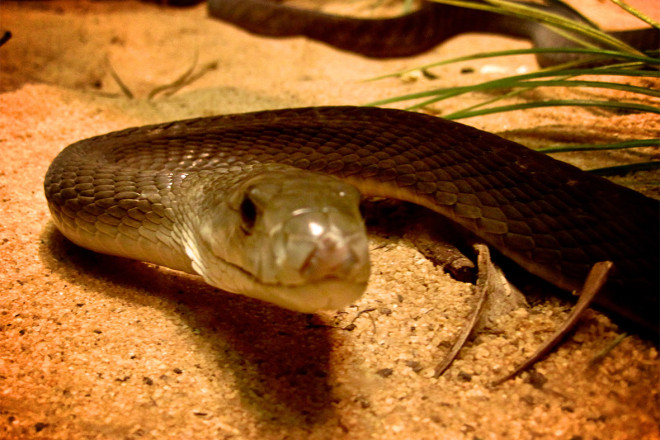 Built in a traditional tin-roofed, Afrikaner trading post-style during the 1920s in order to service the construction of the dam, the vintage yellow bakkie (small truck) outside has become just as famous a landmark.
Upstairs at Tant Malie's itself, meanwhile, is the eponymous shop, complete with a selection of fresh breads, boerebeskuit (rusks) and brightly coloured sweets.
A rustic café in the next room also spills out onto the veranda at the back, where you can treat yourself to a nice cup of coffee and a slice of traditional 'melktart' (custard tart) or old-fashioned lemon meringue pie.
Venture down the steep wooden stairs that lead from the stoep however, and you reach a pleasant tree-shaded restaurant area, in a garden that slopes at least halfway down the hill.
Here they've come up with the great idea of letting people bring (or BBQ) their own lunches during weekends and public holidays. All you have to do is select your desired cut from the charming Oom Jannie's extensive range of steaks laid out in trays on the counter.
Or, if they don't suit, you can always opt for a herb and lemon marinaded chicken sosatie (kebab) or a chunk of one of his home-made boerewors, made from pure beef and his own carefully-selected mix of spices, which knock any of the others I've had into a cocked hat.
Lovely, but certainly not for the vegetarians amongst us - although they could, no doubt, get by on the freshly-baked bread, pap (a traditional Zulu mielie meal or ground maize staple) en sous (a spicy tomato sauce) and somewhat basic selection of salads.
Anyway, once you've made your selection, glowing coals are delivered to the brick braai facility located right next to your table. And because the fire is lit and stoked for you in advance, even your average Brit would be hard pushed to get it wrong. It was by far our most successful braai ever, in fact, which just goes to show that it's all about the heat.
Next on the itinerary though was the Snake and Animal Park. This involved crossing the bridge next to the dam wall again and driving through a single lane tunnel that, despite the lovely views on either side, always takes an eternity to cross.
Although my beloved was keen to catch a glimpse of a black mamba, one of the most poisonous snakes in Africa, I can't say that either of us thought the trip was really worth it.
If you want to spot wildlife, give me a game reserve any day. I've never got on with the distressingly tiny enclosures in these establishments, particularly for your big cats and raptors, whether conservation is involved or not.
Nonetheless, the serpents were magnificent. Although most of them are kept firmly behind glass, we were privy to a snake-handling demonstration, the first of which involved a puff adder.
Although most snakes will move away long before you get anywhere near them, these daft three metre-long creatures rely on their camouflage markings to keep them safe when they venture out, mainly at dusk, and so lie still if approached.
As a result, humans have a habit of trodding on them to deadly effect when out for a nice walk in the bush. In fact, if you're going to get killed by any snake in South Africa, it's most likely to be one of these as they're also the most widespread.
The country's most feared snake though has to be my beloved's favourite – the black mamba. Which isn't actually black at all, but is in fact more brown-y if anything. However, if you're unlucky enough to glimpse the inside of its mouth, black is the colour that you'll see.
Mostly active during the day, these rural beasties pack enough venom to kill up to 40 grown men. Which means that if their fangs hit a major vein or artery, it'll be curtains within about 20 minutes.
So, with that in mind and with all things being equal, maybe life in the big city isn't quite so bad after all....
Cath Everett, a resting journalist who has written about business, technology and HR issues for over 20 years, relocated from the UK to South Africa with her husband