There's nothing like having a guest to make you see your familiar surroundings through new eyes.
It's like anything – once you've been somewhere for a while, you stop noticing the backdrop so much and just get on with the details of life. And after a year in South Africa, I reckon that I've practically gone native.
So it was interesting to hear my friend give her impressions of the country during her two-week holiday here. Johannesburg – or our bit of it in the Parkhurst area anyway - had a similar look-and-feel to Melbourne in Australia, she felt, with its green, open, leafy suburbs and spotlessly clean, freshly-built shopping malls.
Cape Town, on the other hand, reminded her very much of San Francisco, particularly at the heavily touristed V&A Waterfront, which is distinctly reminiscent of Fisherman's Wharf with its street performers and wealth of retail opportunities.
But, while the Mother City's rather pedestrian downtown area may not have the gentle, low-rise pastel-coloured-building charm of San Francisco, what it does have is a truly stupendous setting that, arguably, puts even the lovely Bay Area to shame.
Surrounded by mountains sweeping imperiously down to the sea, with the world-renowned Table Mountain as its breathtaking jewel in the crown, Cape Town is in some ways at its best in the suburbs where many of its most interesting sites lie.
And top of the sightseeing list for my friend, after Pilanesberg National Park in North West province, some two hours drive from Johannesburg, was the Kirstenbosch Botanical Gardens.
Nestled on the steep eastern slopes of Table Mountain, the 36-hectare gardens form part of a larger and mostly wooded and fynbos-bedecked 528-hectare estate at the heart of the Cape Floristic Region.
This region, otherwise known as the Cape Floral Kingdom, was declared a Unesco World Heritage Site in 2004 - the first botanic gardens in the world to win such a designation.
But they deserve it. Not only are the setting and sweeping views from the upper slopes magnificent, if somewhat exhausting to reach. But the Gardens can also claim another world first in having, from their creation in 1913 onwards, devoted themselves entirely to growing indigenous flora in order to protect and conserve it.
Included in the mix is South Africa's national flower, the King Protea, which itself is a form of fynbos. This shrubland vegetation is interesting in that it grows in only a limited area of the Western Cape's coastal belt, but makes up an astounding 50% of the African subcontinent's 18,000 or so entire plant species.
Table Mountain plays host to 1,460 or so different types of fynbos alone, which is more than all of the plant species put together in the UK.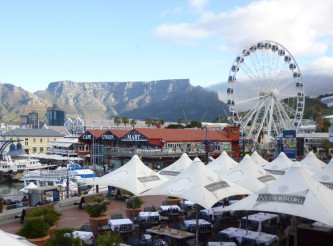 None of these facts does justice to the beauty of the gardens themselves, which are divided up into different "rooms", intermingled with streams and ponds and all linked together by sweeping herringbone-paved pathways.
My favourites had to be the 'Medicinal' and related 'Useful Plants' areas though as I have always been fascinated by the folklore surrounding these things, despite the unfamiliarity of most of the local plants.
I would also have quite liked the 'Fragrance' garden too if it hadn't set off my hay fever, which meant that I couldn't smell anything for the rest of the day.
Third on my friend's list of not-to-be-forgotten experiences, meanwhile, was scaling Table Mountain itself. In the past, my experience of this particular, little treasure hadn't always been as positive as it might be.
I've generally had to wait for hours in baking hot queues, just to scare myself silly in the nail-biting cable car ride to the top, before freezing my bits off in the gales up there after having forgotten a jumper.
But this time, it was a different experience. This time, after braving the endless queues, I plonked myself down on a tiny seat near the operator in the middle of the cable car so that I couldn't see a thing. To add to my joys, we disembarked in boiling sunshine with not so much as a gust of wind.
It was fabulous. I even felt brave enough to leave the café after a cup of restorative rooibos tea and partake of a short, and free, guided tour, which was worth it, not least for the spectacular views of mountains and bays combined with azure seas and skies.
The only slight downside was not spotting any rock dassies, small, guinea pig-like creatures that like sunbathing on large rocks and can do clever things like collapse their ribcages if they want to squeeze into small crevices to escape predators.
Bizarrely though, despite their diminutive proportions, a dassie's closest relative is apparently the African elephant. You shouldn't judge a book by its cover.
The same could be said of South Africa itself really. As a tourist going to all the "nice" bits, it's all too easy to avoid seeing the poverty and deprivation experienced by the majority of people in this country.
Certainly here in Johannesburg's northern suburbs, you could be in any developed country anywhere in the world – a fact that my friend pointed out to me with surprise, adding that it wasn't what she'd imagined Africa to be, not the "real" Africa anyway which she'd still like to visit.
A statement that, whichever way you look at it, really is a bit of a sad indictment of what's happened, and is still happening, on this beautiful continent.
Cath Everett, a resting journalist who has written about business, technology and HR issues for over 20 years, relocated from the UK to South Africa with her husband