Myanmar Police Burn down Rohingya Homes in Rakhine State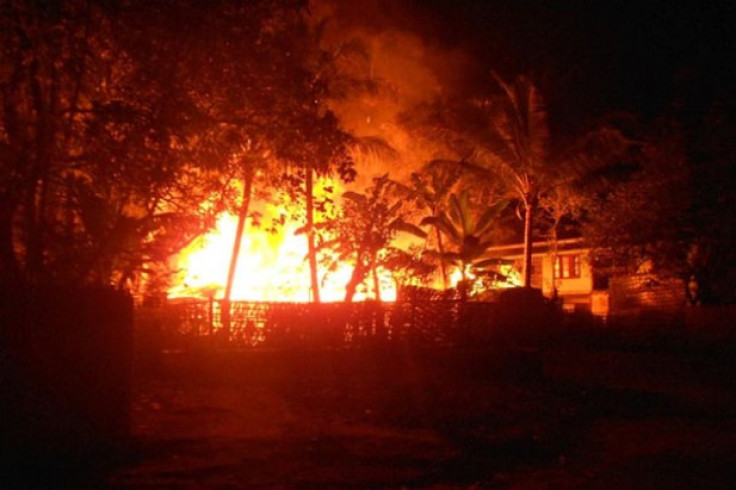 Burmese police set fire to at least 70 Rohingya homes in the village of Du Char Yar Tan, where at least 48 Muslims were said to have been killed by a Buddhist mob amid renewed sectarian violence, it has been claimed.
Two eyewitnesses said that police burnt down the houses overnight. The village has been semi-deserted after the mob violence a week ago. Two hundred villagers were allowed to return in the area in the remote Maungdaw township in Rakhine state.
"We are calling for an international investigation. Without protection, more Rohingya will die," Tun Khin, human rights activist and president of the Burmese Rohingya Organisation in the UK, told IBTimes UK.
The Ministry of Information confirmed the incident on Facebook but blamed Muslim villagers who "burned their own homes".
The Burmese government has rejected international calls for a UN investigation into the recent massacre. Officials from the minister of foreign affairs denied that any Rohingya were killed but claimed that a policeman had been reported missing after he was attacked by Muslim villagers.
"We already have our own independent investigation commission, we don't need an international investigation," said deputy information minister Ye Htut, in response to US ambassador Derek Mitchell's call for international officials to be allowed in.
If verified, recent killings in the remote Maungdaw township in Rakhine State would be the deadliest incident since October 2012 and would bring the total death toll from religious conflict to 277 or more since 2012.
According to UN chiefs and human rights organisations, at least 48 people, many of them women and children, have been massacred in violence perpetrated by state security officials and local Rakhine residents.
'Like the Bosnian genocide'
The Myanmar government has flatly denied the killings, describing reports of a massacre as "misinformation" and accusing foreign media of distortion. Official government reports claimed that local police were threatened by an armed Muslim mob, but that there were no civilian casualities.
"An international investigation is the only way to establish the facts," Tun Khin told IBTimes UK. "The situation in Myanmar's Rakhine state is similar to what happened in Bosnia during the 1992-95 war."
Violence against Myanmar's Muslims has intensified over the past two years, incited in part by extremist monks and the virulently anti-Muslim '969' campaign, who espouse hate and urge Buddhists to boycott Muslim businesses.
Khin said that 1,000 members of the 969 Buddhist movement moved to Rakhine state from other parts of the country to allegedly start a hate campaign against Muslims.
Some people have been threatened by extremists and told "you have to leave, otherwise your fate is going to be like your other Muslim people", a Rohingya activist told IBTimes UK.
Others living as a minority in Buddhist areas have simply fled out of fear.
IBTimes UK's source described families moving from various towns across the country, with many now hiding from authorities and living illegally in Muslim areas of Yangon, afraid that they will be locked up or returned to their home towns.
Local Buddhists are also being threatened for associating with Muslims. The political activist described extremist monks as "like the mafia", exerting powerful influence over local communities.
"They say 'if you do business with the kalar [racist slur for Muslims] we will brand you as a traitor to the nation, to the religion and to the community'."
© Copyright IBTimes 2023. All rights reserved.