Unprecedented political reforms in Myanmar have been widely celebrated, but these achievements are marred by increasing religious extremism and horrific levels of violence aimed at the region's Muslims.
About 90% of the country's population of 55 million are Buddhist, with Muslims making up between 4% and 8%. Despite tensions, the Buddhist majority has lived largely peacefully along with the Muslims for the past decades. But over the last two years, several violent episodes against Muslims led by angry Buddhist mobs have tainted the picture of a progressive Myanmar painted by president Thein Sein.
The capital Yangon, a multicultural city populated by Buddhists, Christians and Muslims, has also witnessed a rise in fear and suspicions among the two communities.
Over recent days, UN humanitarian chiefs, and human rights organisations have reported credible evidence of a massacre of at least 48 Rohingya Muslims in Myanmar's western Rakhine State, with many of the victims believed to be women and children.
The Myanmar government has dismissed the reports as "misinformation and unjustified conclusions", and instead responded by ordering mass arrests of Rohingya men and boys in the area.
The incident, just the latest in a string of attacks that left at least 240 people dead and more than 140,000 homeless or displaced in prison-like camps, caused terror in the Muslim Yangon community.
'Treated like Animals'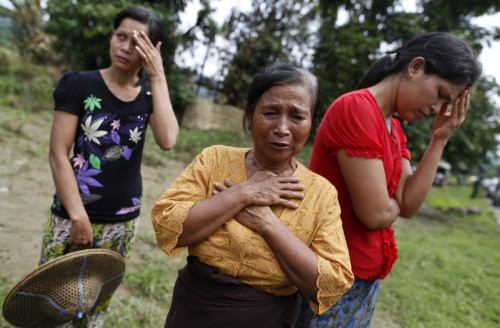 On condition of anonymity, a prominent Rohingya political activist spoke frankly to IBTimes UK about the persecution faced by Myanmar's Muslim population.
Despite his public profile, he fears for his safety and the consequences of revealing his identity.
"Muslims in Myanmar are treated like animals," he said.
"I'm feeling very afraid. We don't have any kind of protection in this country."
"We haven't got anything here. Our government is against us" he told IBTimes UK.
Violence against Myanmar's Muslims has intensified over the past two years, incited in part by extremist monks and the virulently anti-Muslim '969' campaign, who espouse hate and urge Buddhists to boycott Muslim businesses.
But the government's response has also come under scrutiny by campaigners.
David Mathieson, senior researcher at Human Rights Watch, told IBTimes UK that the government response to violence and discrimination against Muslims has been "inadequate to the point of complicity".
Matthew Smith, executive director of rights group Fortify Rights explained:
"There is a growing movement designed to isolate Muslim communities socially and economically. Buddhist citizens have faced ridicule and worse from their peers for patronising Muslim-owned shops and businesses. Unchecked community-level intimidation against Muslims is occurring in many areas."
Buddhist Monks 'Like the Mafia'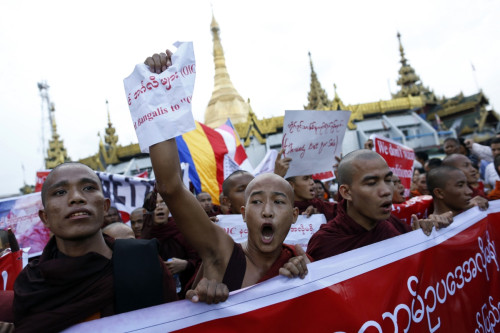 Some people have been threatened by extremists and told "you have to leave, otherwise your fate is going to be like your other Muslim people", said the Rohingya activist.
Others living as a minority in Buddhist areas have simply fled out of fear.
IBTimes UK's source described families moving from various towns across the country, with many now hiding from authorities and living illegally in Muslim areas of Yangon, afraid that they will be locked up or returned to their home towns.
Local Buddhists are also being threatened for associating or doing business with Muslims. The political activist described extremist monks as "like the mafia", exerting powerful influence over local communities.
"They say 'if you do business with the kalar [racist slur for Muslims]... we will brand you as a traitor to the nation, to the religion and to the community'."
His work as an engineer is suffering, as he can no longer do business with Buddhists – most, he explains, are too afraid of the consequences of being seen to work with a Muslim.
Increasing religious violence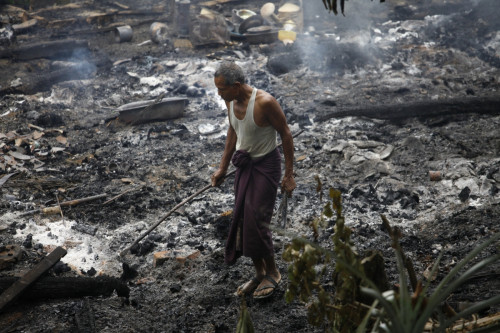 Attacks against Muslims have been on the rise since brutal sectarian violence between ethnic Rakhine Buddhists and Rohingya Muslims in Rakhine exploded in June 2012.
According to Smith, discrimination against Muslims "runs deep in Myanmar officialdom".
If verified, recent killings in the remote Maungdaw township in Rakhine State will be the deadliest incident since October 2012 and will bring the total death toll from religious conflict to 277 or more since 2012.
According to UN chiefs and human rights organisations, at least 48 people, many of them women and children, have been massacred in violence perpetrated by state security officials and local Rakhine residents.
Sparked by the alleged killing of a police officer, local security forces and armed Rakhine villages entered Du Chee Yar Tan village on January 14 and attacked local Muslim residents.
The remaining villagers fled, and many are believed to be hiding in nearby forests, whilst local officials have apparently ordered the mass arrests of male Rohingya adults and children.
Smith said that at least 40 Rohingya were killed, although, "the actual number of deaths may be higher, but information is circumscribed by the government-imposed restrictions on access to the area".
Peter-Paul de Groote, Myanmar head of Mission for humanitarian group Medecins Sans Frontières confirmed that MSF has treated at least 22 patients. Some of the wounded are believed to be victims of the violence that erupted in Du Char Yar Tan village, in southern Maungdaw Township on January 14.
Foreign governments have been quick to condemn the massacre, and have called on the Myanmar government to launch an immediate investigation into the violence, and allow international access to the scene.
The Myanmar government has flatly denied the killings, describing reports of a massacre as "misinformation", and accusing foreign media of distorting the situation. Official government reports claim that local police were threatened by an armed Muslim mob, but that there have been no civilian injuries or causalities.
Despite some suggestions that the government may allow international observers into the area, to date, the village and surrounding neighbourhoods have been sealed to outsiders, and with access denied to humanitarian workers and journalists.
No political support for Muslims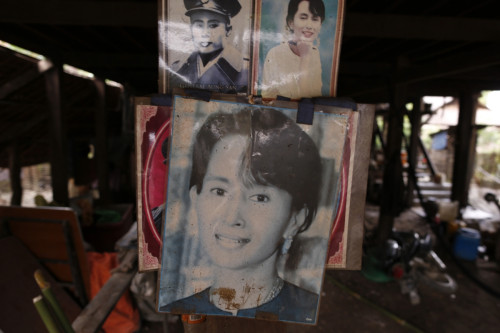 Despite announcing a "zero tolerance" approach to religious violence, and launching a commission of inquiry into the conflict in Rakhine State, the Myanmar government's response to the nationwide increase in religious tension has been muted, and has failed to protect Muslims under attack.
There has been no move to block hate speech, with Myanmar's president Thein Sein publicly defending extremist monk Wirathu and the anti-Muslim 969 movement, describing him as a "son of Buddha" in a public statement last year.
Parliamentarians from the National Democratic Front party are seeking to propose a bill drafted by monks that would restrict inter-religious marriage, banning Buddhist women from marrying non-Buddhist men.
Rohingya Muslims are still denied citizenship, and over 140,000 remain displaced in squalid camps after two years, unable to leave or seek work. Many are without access to proper medical care, education or food.
Analysts point to the upcoming 2015 elections as a key driver in political decision making, and suggest that any attempts at providing support to Rohingya or Muslims in general would likely be wildly unpopular amongst Myanmar's majority Buddhist population. Global peace icon and Nobel laureate Aung San Suu Kyi has attracted widespread condemnation for her silence on the issue.
"The government is not doing nearly enough to stop the rising tide of anti-Muslim sentiment and violence. Their failure to promote and protect the human rights of all threatens to derail the entire reform process," said Smith of Fortify Rights.
The anonymous Rohingya political activist who was interviewed said: "We just want to go back to the normal life [we] used to have.
"[But] if you are Muslim, there is no place for you."