Myanmar Rohingya migrants face starving to death in stranded boat near Malaysia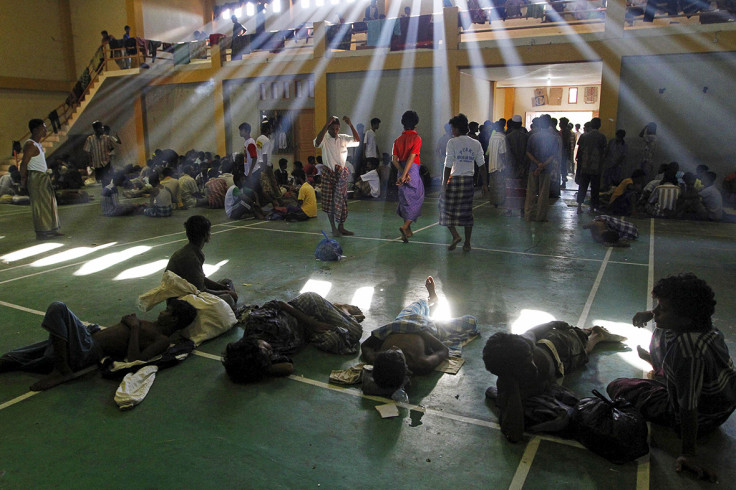 The 350 Rohingya Muslims aboard a migrant boat allegedly abandoned by Thai smugglers off the coasts of Malaysia are at risk of dying of starvation or thirst as they have had no food or water for three days.
The migrants, including 50 women and 84 children, asked for help on a telephone call to Chris Lewa, an activist at the Arakan Project. Their position is unclear but they are believed to be close to the Malaysian island of Langkawi. The boat's engine was scuttled by the Thai smuggling gang on Sunday (10 May) who later abandoned the ship.
"We are really concerned about these people because we have seen many instances of malnutrition or passengers suffering from beriberi [a disease caused by vitamin deficiency]," Jeff Labovitz, spokesman for the International Organization for Migration (IOM), told IBTimes UK. "They need immediate humanitarian assistance: beriberi leaves you like a living skeleton."
"We hoped that other ships could see the migrant boat, but that's not the case at the moment," he said.
Considered the one of the most persecuted ethnic minorities in the world by the UN, Rohingyas are stateless and live in segregated conditions in the western Rakhine state, where clashes with Buddhists in 2012 left about 200 people dead and tens of thousands displaced.
They have been viewed as unwelcome migrants from Bangladesh during the last century by the Myanmar government and local Burmese.
On 11 May, more than 1,000 of them arrived on the island of Langkawi and a further 600 came ashore in Indonesia, joining tens of thousands who are living and working in Thailand, Malaysia and Indonesia, and a smaller number who manage to reach Australia or India.
But the IOM believes as many as 8,000 migrants are stranded at sea on smugglers' boats between the Andaman Sea and the Straits of Malacca.
Following the discovery last week of dozens of human remains in abandoned smugglers' camps in the south of Thailand, police have launched a crackdown on people smugglers.
That has prompted the human traffickers to bring the Rohingyas offshore, rather than onshore, for fear of being arrested, according to Labovitz.
"They were looking to unload the boats to Thailand but the crackdown started. So there are no departures going on at the moment, the migrants are just stranded on those ships without enough food or water for days," he said.
Earlier on Tuesday, Indonesia said it had pushed back a boat carrying hundreds of migrants believed to be from Myanmar and Bangladesh.
The UN refugee agency spokesperson Adrian Edwards has appealed to governments in South-east Asia to step up search-and-rescue operations to save the stranded migrants.
Thailand has called for an emergency regional summit on 29 May to discuss the refugee crisis.
Malaysia said it would turn away any more vessels unless they were sinking.
"We won't let any foreign boats come in. If the boats are seaworthy, we will give them provisions and send them away," Tan Kok Kwee, northern regional chief for Malaysia's maritime enforcement agency, told AP.
Malaysia's Home Ministry said in a statement that the 1,158 migrants who landed Sunday comprised 486 Myanmar citizens and 682 Bangladeshis. There were 993 men, 104 women and 61 children.
© Copyright IBTimes 2023. All rights reserved.