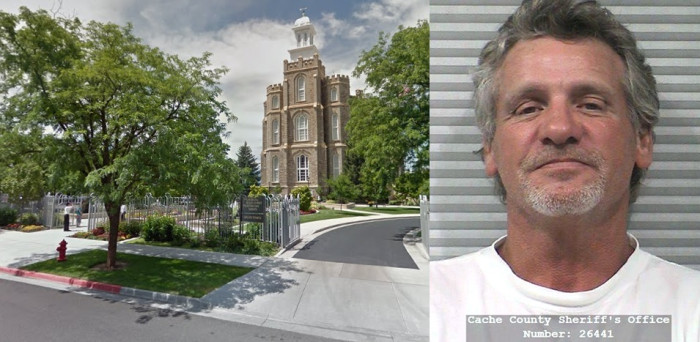 A convicted sex offender caught breaking into a Mormon Temple in Utah has told police he was hoping to find a wife.
Kelly Thayne Archibald, 53, of Franklin, Idaho, 20 miles to the north of Utah, was seen climbing the gates of the Church of Jesus Christ of Latter-day Saints (LDS) in the small town of Logan, before wandering around naked.
Witnesses initially saw Archibald approach the LDS temple with only a blanket around his waist and jacket over his shoulders, but alerted police after he dropped the blanket and scaled the gates.
Asked by police why he had no clothes on, Archibald said he was naked because that was how he entered the world, according to the Herald-Journal newspaper.
Police located Archibald's truck nearby but found no clothing and believe he drove to the temple naked.
He was arrested and taken to the nearby Cache County Jail.
Archibald, a convicted sex offender who pleaded guilty to sexually abusing a child under the age of 16 in 2008 according to The Washington Times, was charged with lewd behaviour, criminal trespass and disorderly conduct. His previous sex conviction means the lewdness charge is automatically escalated from a misdemeanour offence to a felony.
Utah is the "capital" of LDS worship and around 60% of the residents are believed to be Mormons. Alcohol is forbidden under Mormon teachings and only low-strength beer can be served in Utah's bars. The Mormon church is still linked to polygamy, although the practice has been forbidden by the religion for over a century.
Well-known Mormons include Republican politician Mitt Romney and The Killers front man Brandon Flowers.