National Treasure: Julie Walters steals the show as Paul Finchley's deceitful past haunts him
Channel 4 series is inspired by Operation Yewtree.
From the despondent blue-tinted picture to the creepy music filled with a lingering sense of doom, there doesn't appear to be much hope on the horizon for protagonist Paul Finchley (Robbie Coltrane) of Channel 4's chilling new drama, National Treasure.
Tuesday night's (4 October) haunting episode saw Julie Walters threaten to steal the show as the ageing comedian's devout Catholic wife, Marie, as she battles to keep her head above water amid her husband's police inquiry into historical sex crimes. Interrogated by Paul's wood-pecking barrister about her marital sex life – Marie quivers and begins to crack under the pressure as she faces her husband's lifetime of infidelities that are quickly catching up with him.
Asked about what her "deal" is with her husband, a Faustian notion resonates as Paul's chosen path of deceit and lechery have sacrificed his reputation, family and marriage. 'Was it worth it?' viewers are left pondering.
The couple's daughter, Dee (Andrea Riseborough), has endured mental health issues, possibly due to her rocky ubringing, and has attempted suicide. She appears to make up with her father Paul as they bond over their dark thoughts of taking their own lives and sexual abuse. Not the typical father/daughter chat.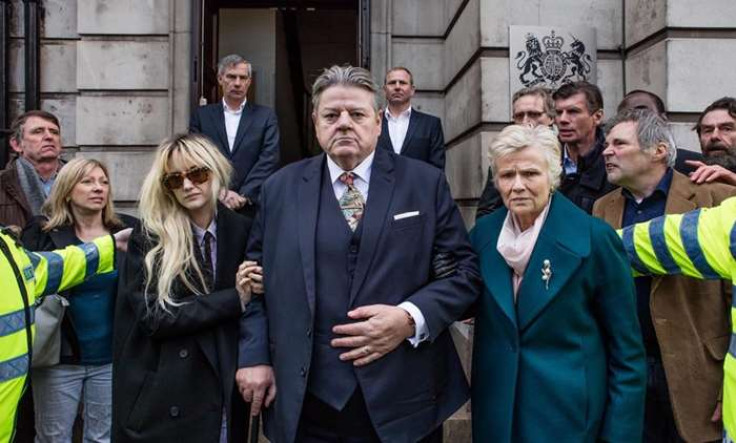 National Treasure airs on Channel 4
Channel 4
But as court proceedings against Paul commence and he admits to sleeping with the accuser, Rebecca Thornton, though he claims to Marie that he "honestly cannot remember", an unexpected twist of new evidence suggests that he might, after all, be innocent.
It is revealed that Rebecca sent the comedian fan mail after allegedly sleeping with him – letting Paul and sleazy ex-cop Gerry conjure up a new story that the pair did in fact have a one-night stand but the girl later felt confused and believed she was taken advantage of, citing rape.
But what leaves Marie feeling like her whole world is caving in on her – with an overwhelming claustrophobic and suffocating feeling of lie upon lie – is the fact that her husband admits to not being completely honest about all of his infidelities as he once ensured her. This leads her to pack up her stuff in a suitcase, but is faced with Paul and their daughter Dee as she is about to flee the family home. Paul chirpily claims: "We're all together again".
The show, written by Jack Thorne, began trending on Twitter and received a mountain of praise from viewers, with many commenting on Walters' gripping performance. The episode also averaged at 2.2m – making it the highest performing commercial channel in the 9pm slot.
Actor Tony Robinson commented on Twitter: "I'm adoring #NationalTreasure The performances are exquisite. Love how my old mate Tim McInnerny is so laid-back & yet so compelling," while comedian Paddy McGuinness wrote: "If you like a bet put a few quid on Julie Walters winning a BAFTA for #NationalTreasure".
National Treasure continues next Tuesday at 9pm on Channel 4.
© Copyright IBTimes 2023. All rights reserved.