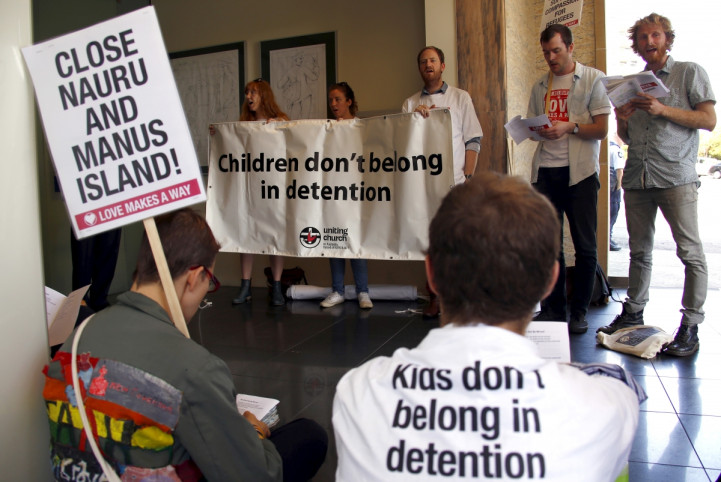 The government of Nauru on Tuesday (16 August) dismissed the claims of refugee and asylum seeker abuse in its immigration detention centre and said most of the allegations were fabricated.
Last week, the Guardian Australia published leaked documents of more than 2,000 incidents in Nauru, detailing accusations of abuse and self-harm, including children wanting to end their lives, which prompted calls for a parliamentary inquiry. The Nauru government hit back saying that the leaked reports, dated from 2013 to 2015, contain false claims and that some asylum seekers have filed false claims in the hopes of being relocated to Australia.
The government tweeted on Tuesday saying "Most refugee & advocate claims on Nauru fabricated to achieve goal to get to [Australia]. So called "reports" based solely on these claims."

In a second tweet, the government blamed the Australian left-wing media and Green party MPs for using refugees as pawns for their political agendas.

Australia's immigration minister Peter Dutton said last week that some of the events described in the leaked files involved "false claims of sexual assault." He elaborated saying "Because in the end people have paid money to people smugglers and they want to come to our country. Some people have even gone to the extent of self-harming and people have self-immolated in an effort to get to Australia and certainly some have made false allegations."

Since 2013, Australia has refused resettlement of refugees arriving by boat and instead sends them to Manus Island in Papua New Guinea or Nauru's detention centre.
Earlier this month, two human rights groups, Amnesty International and Human Rights Watch released a report alleging that Australia intentionally ignores the abuse that occurs in the detention centre in Nauru. The report accused Australian government of pursuing "deliberate policy to deter further asylum seekers from arriving in the country by boat". In April, an Iranian refugee died after setting himself on fire on Nauru.