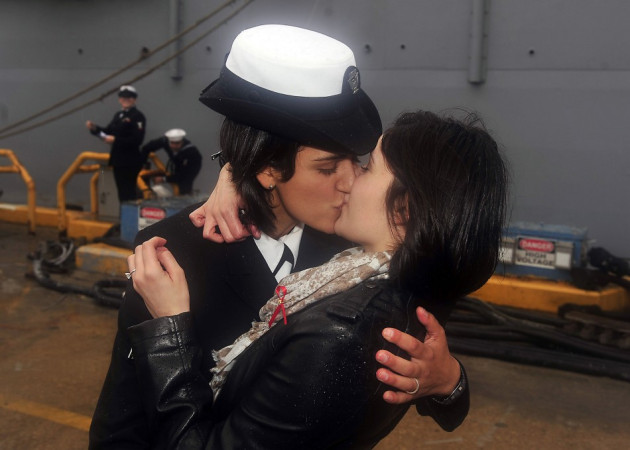 A lesbian couple serving in the U.S. Navy have become the first openly gay couple to share the traditional dockside "first kiss" since the lifting of a ban on homosexuals in the U.S. army.
Petty Officer 2nd Class Marissa Gaeta won the right to be the first person to kiss her partner on shore after being at sea for 80 days.
Crowds cheered as the 23-year-old shared a kiss with her partner of two years, 22-year-old Petty Officer 3rd Class Citlalic Snell, at the Virginia Beach Docks in Virginia.
The couple, who met in training, said the moment had been "a long time coming" and that they were thrilled they could "finally be honest" about their relationship.
The U.S. Army's "Don't Ask Don't Tell" policy prohibiting openly gay men and women from serving in the military was lifted in September.
The ending of the ban was the culmination of years of debate about the role of homosexuals in the military services.
PO Gaeta told local media that crew members traditionally hold a raffle in order to win the right to "first hugs and first kisses."
She said she had bought 50 raffle tickets at $1 each, but that other sailors had bought far more.
"I'm a little nervous, you know. But I've been waiting since she left," said PO Snell, who was waiting for her partner at the dockside to greet her.
A Navy spokeswoman told Reuters the military "doesn't really keep track of stuff like that" but that she believed this was the first same-sex homecoming kiss.
"To the Navy, (it was) really just a normal homecoming," said Ensign Sylvia Landis.