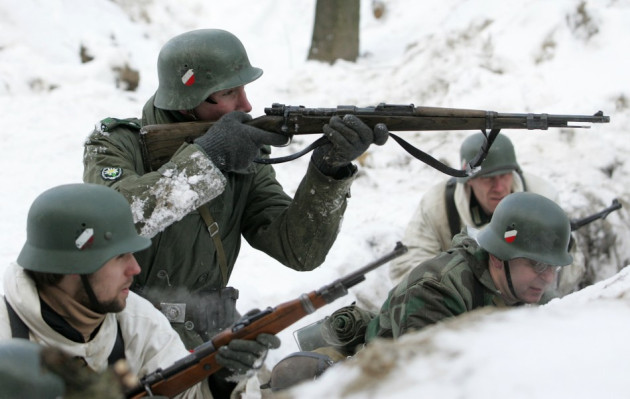 Newly discovered letters from the Second World War reveal that Nazi soldiers were given pills containing methamphetamine to help them cope with the demands of combat.
Methamphetamine, also known as crystal meth, is a powerful stimulant. In Germany and Finland it was manufactured during the war under the name of Pervitin.
Between April and July 1940, 35 million Pervitin tablets were produced in laboratories in Germany then, according to criminologist Wolf Kemper, the drug was "unscrupulously distributed to troops fighting at the front".
Among them was Heinrich Boell, who after the war became a novelist and won the Nobel prize for literature. He wrote to his family repeatedly requesting a top-up of his Pervitin supply.
"Dear parents and siblings," Boell, wrote in a letter dated 9 November 1939, to his family in Cologne, while still a soldier in occupied Poland.
"It's tough out here, and I hope you'll understand if I'm only able to write to you once every two to four days soon. Today I'm writing you mainly to ask for some Pervitin...Love, Hein."
On 20 May 1940, the 22-year-old soldier wrote home again: "Perhaps you could get me some more Pervitin so that I can have a backup supply?"
And again on 19 July 1940 , he wrote: "If at all possible, please send me some more Pervitin."
Despite Nazi propoganda advocating abstinence from drugs and alcohol to maintain Aryan purity, military authorities provided soldiers with alcohol and opiates as well as Pervitin to help them cope with the rigours of combat.
A memorandum for navy medical officers stated: "Every medical officer must be aware that Pervitin is a highly differentiated and powerful stimulant, a tool that enables him, at any time, to actively and effectively help certain individuals within his range of influence achieve above-average performance."
In some cases, the pills were reported to work wonders.
In January 1942, one letter from a medical officer says, that a group of hundreds of troops were surrounded by Russians and were attempting to escape in sub-zero temperatures.
"I decided to give them Pervitin as they began to lie down in the snow wanting to die," wrote the officer.
"After half an hour the men began spontaneously reporting that they felt better.
"They began marching in orderly fashion again, their spirits improved, and they became more alert."
However, crystal meth, or methamphetamine, has severe side effects, including dizziness and hallucinations, and some addicted Wehrmacht soldiers died of heart failure or killed themselves in psychotic episodes.