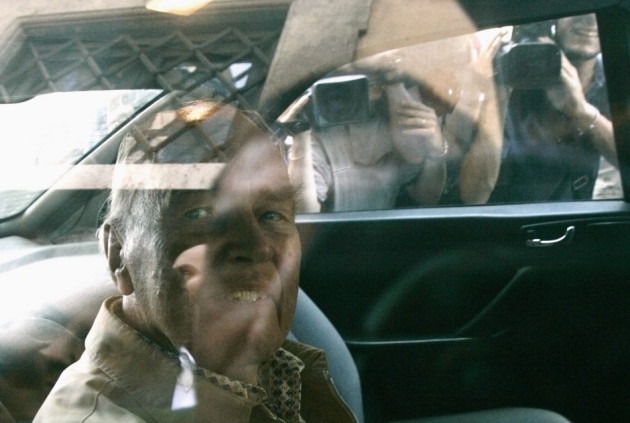 The body of late Nazi war criminal Erich Priebke has been secretly buried in a disused cemetery inside an Italian prison facility.
The grave is marked only by a wooden cross with only a number inscribed, La Repubblica newspaper has revealed.
Priebke died aged 100 in Rome, where he was serving a life sentence for the so-called 1943 Ardeatine Caves massacre, when 335 Italians were executed in retaliation for the killing of 30 Nazi soldiers.
His death sparked violent protests that were shortly followed by dispute over the burial place.
In an article penned by the editor Ezio Mauro, La Repubblica said the body of the former SS captain was taken away at night from Rome's military airport of Pratica di Mare - where it had been sitting for days - and brought to the cemetery by two men driving a grey hearse.
"Even if we cannot reveal the location of his burial place, the public should know that the affair has been brought to a close," Mauro wrote, adding only that the grave is in a fenced-off area inside the walls of a prison.
The article was accompanied by photos of the cemetery, which is said to have been disused for more than 20 years but not deconsecrated.
According to Mauro, Italian authorities banned the head of the prison from disclosing the location of the grave to anyone but Priebke's sons to avoid unwanted pilgrimages and attention from Nazi sympathisers.
The burial wasn't welcomed by Efraim Zuroff, the top Nazi hunter at the Simon Wiesenthal Centre in Jerusalem, who has worked to track down Nazi criminals who went into hiding across the world after World War II.
"Unfortunately, Priebke was buried and not cremated," Zuroff told IBTimes UK. "He did not deserve a resting place, but should have shared the fate of so many of the Nazis' victims, whose remains were cremated with no grave to go to for their relatives and loved ones."
Priebke never showed remorse for his crime and in an interview recorded months before his death, he denied the Holocaust and defended Adolf Hitler and the Nazi ideology.
Thus the Vatican refused him a church funeral, and authorities in Italy, Germany and Argentina, where he was discovered working as a teacher in 1994, denied him burial.
"The response of the Vatican and the Argentinean government were very admirable, and should serve as a model for other governments and religious leaders. There should be no sympathy for those who had no mercy for the Nazis' innocent victims," said Zuroff.
After a botched funeral attempt organised by an ostracised Catholic order near Rome was interrupted by protesters the body was taken by police to Pratica di Mare and after a few days to his final resting place.
Priebke's family lawyer disputed the claim that the photos published by Repubblica depict his late client burial place.
"The photos published this morning have been taken from an horror movie or from some abandoned garden that has nothing to do with Mr Priebke's burial," Paolo Giachini told Il Corriere della Sera.
Giachini said authorities and the family agreed to remain silent on the body's whereabouts until a definitive solution has been found.
Giachini was not immediately available to provide further information.