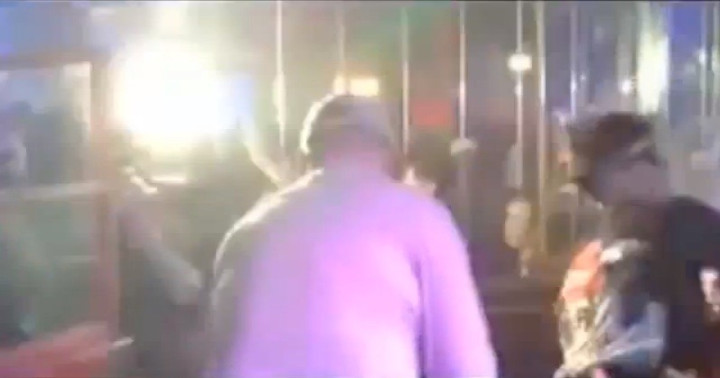 This is the moment pop star Dappy hit out at a man in the audience with a microphone during his set at a Hereford nightclub.
Security pounced and ushered away the former NDubz singer, 25, from the stage at Play nightclub in Hereford.
It happened during a performance in which Dappy sang just yards from the audience. One man was struck by the Good Intentions chart-topper.
Police have mounted an investigation.
Dappy, whose real name is Costadinos Contostavlos, narrowly escaped a jail sentence in February for a brawl involving two girls and a man at a petrol station. He was given a six-month suspended sentence.
In the latest incident, Dappy was said to have hit out after a man lurched towards him with a glass at the club.
Dappy said later that he could have been killed. Night club boss Dan Guerche said: "A customer lunged through security towards Dappy with a plastic glass in his hand.
"Dappy, fearing for his safety, pushed the male away to remove the glass from his hand and caught the male on the head."
Contactmusic.com quoted pint-sized rapper Dappy saying: "I swung to disarm [him]. If that glass had hit me it could have been fatal."
A West Mercia police spokesman told IBTimes UK: "This incident has not been reported to us and we have not received any allegation of assault.
"Now we have been made aware of the matter we will be making enquiries to establish exactly what happened and if there are any complaints to investigate."