The memorial service for former South African president Nelson Mandela has taken place at the 95,000-capacity First National Bank stadium in Soweto, Johannesburg.
The service lasted about four hours and saw some 100 current or former heads of state or government getting together to pay tribute to the anti-apartheid hero.
Attendees include US President Barack Obama, UN Secretary-General Ban Ki-moon and David Cameron, who represented Britain alongside his prime ministerial predecessors Gordon Brown, Tony Blair and Sir John Mayor.
Notable moments included an historic handshake between Obama and Cuba's president Raul Castro, and the cold reception met by South African president Jacob Zuma.
Here below are live updates, as events unfolded. Read from foot of page to follow events in sequence.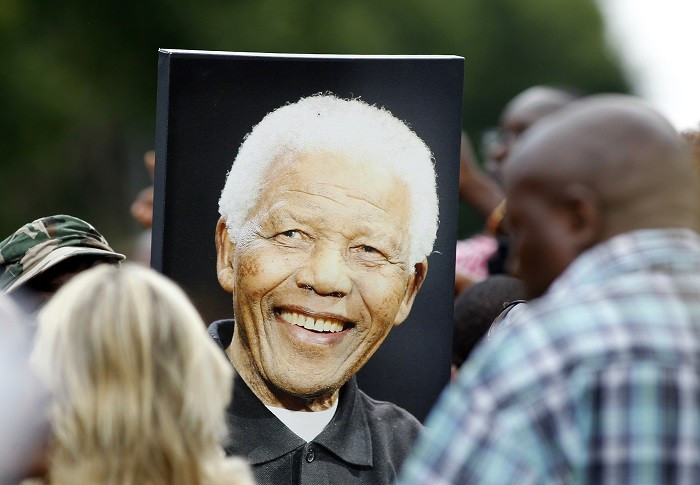 2.11pm
ANC Vice-President Cyril Ramaphosa has officially closed the ceremony.
"Long live Nelson Mandela," he says.
Ramaphosa has been however followed on stage by Desmond Tutu.
1.58pm
The ceremony is reaching its conclusion. Many are leaving the FNB stadium Soweto.
Those who want to read the full text of South African president Jacob Zuma's speech can find it here.
"South Africans sing a popular freedom song about former President Nelson Mandela," the incipit reads.
"We sing that he is one of a kind, that there is no one quite like him. Nelson Mandela, Nelson Mandela akekho ofana naye."
1.54pm
ANC deputy president Cyril Ramaphosa is back on the stage.
Ramaphosa thanks everyone who has been involved in the memorial service.
1.52pm
Also Abrahams urges South Africans to follow Mandela's teachings not only with words but with facts.
We are his heirs. We are his sons and daughters, he says. "His mantle has fallen and it is in our hands."
It is not enough to bear the name Mandela or to be the member of the ruling party to bring forward Mandela's legacy, he says.
1.45pm
In the conclusive sermon Bishop Ivan Abrahams quotes If by Rudyard Kipling:
"If you can talk with crowds and keep your virtue,
Or walk with Kings-nor lose the common touch,
If neither foes nor loving friends can hurt you,
If all men count with you, but none too much;
If you can fill the unforgiving minute
With sixty seconds' worth of distance run,
Yours is the Earth and everything that's in it,
And-which is more-you'll be a Man, my son!"
1.36pm
"I can't remember anything that brought people from around the world in this way," Tony Blair tells the BBC.
Blair says one thing he remembers about Mandela is "how easy was he to get on with".
"He was so good with everyone, so easy with everyone."
"He was very human."
Blair tells the BBC Mandela "loved Britain" and asked him about the Queen.
"He loved London and the country," Blair says.
1.33pm
Obama's speech was definitely the defining moment of the memorial service.
Here is a picture of the crowd listening to the US president under the torrential rain and one showing a spectator's reaction to the speech.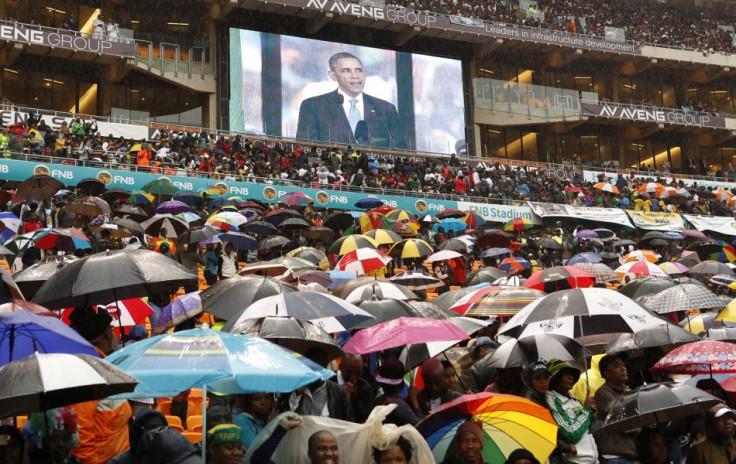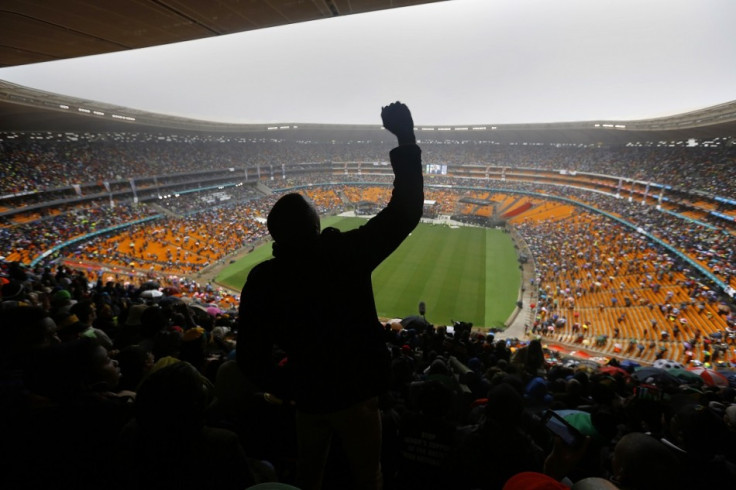 1.31pm
Bill Clinton and other guests seem to be leaving the stadium. The ceremony is entering its final stages.
1.27pm
Next is a short sermon by Bishop Ivan Abrahams.
1.25pm
Zuma says Mandela's body will lie in state at Nelson Mandela amphitheatre in Pretoria for three days
"Our father Madiba has run a good race," Zuma says before concluding his address.
1.19pm
"He never wanted to be viewed as a messiah or a saint, he empathised that all his achievements were derived from working with the ANC's collective," Zuma says.
"Today Madiba is no more," Zuma says. "He leaves behind a nation that loves him dearly. He leaves a continent that is truly proud to call him an African".
"He leaves behind a deeply entrenched legacy of human rights democracy and freedom."
1.14pm
Zuma urges South African to follow Mandela's example.
Let tolerance create peace and move our country forward, Zuma says.
He says Mandela set a good foundation for fight against HIV/Aids.
1.02pm
Zuma says Mandela paid dearly for his beliefs. The president is going through Mandela's life and political struggle main steps.
The enormous emotion and feelings we felt on that day are difficult to express on human language, Zuma says of Mandela's release from prison.
"People who had been made to feel like pariahs in the land of their birth could suddenly see that freedom was possible."
"Indeed there is no one like Madiba."
12.56pm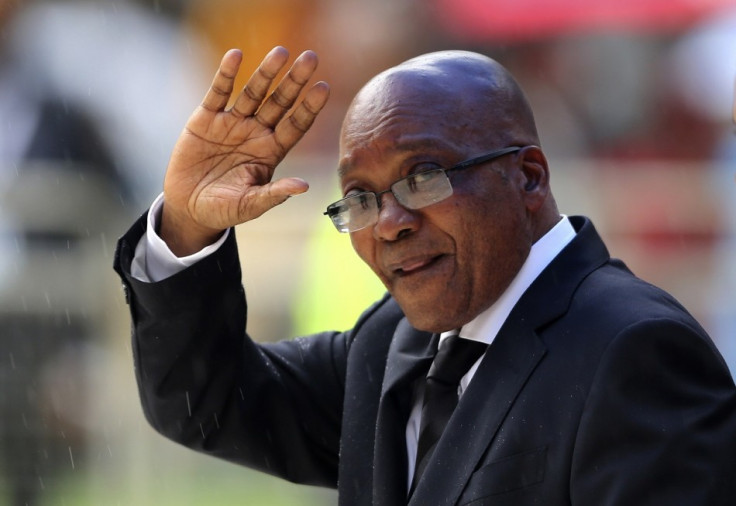 Mandela is the funding president of the free and democratic South Africa and also one of the president of the oldest liberation movement in the continent, Zuma says. South Africans sing a popular freedom song about Mandela: there is no one quite like him, he says.
"Never before has our country celebrated a life as that of Madiba," Zuma says.
12.50pm
Boos from the crowd welcome Zuma on stage. The band is swift in playing music that downs out the noise.
12.48pm
South African president Jacob Zuma is up next. He's preceded by a praise singer.
12.44pm
Castro praises Mandela's fight to overcome the consequences of colonialism and racial segregation.
Castro says Mandela once "said the Cuban people have a special place in the hearts of the people of Africa."
"I remember his bond of affection with Fidel Castro," Raul Castro says describing the relation a between South Africa and Cuba as "fraternal".
"Honour and eternal glory to Nelson Mandela and the heroic people of South Africa," Castro concludes.
12.38pm
Raul Castro has now taken the stage. Mbete introduces him as the leader of a "a tiny island of people who liberated us."
12.33pm
Here is a better picture of an historic moment: US president Barack Obama shakes hands with his Cuban counterpart Raul Castro.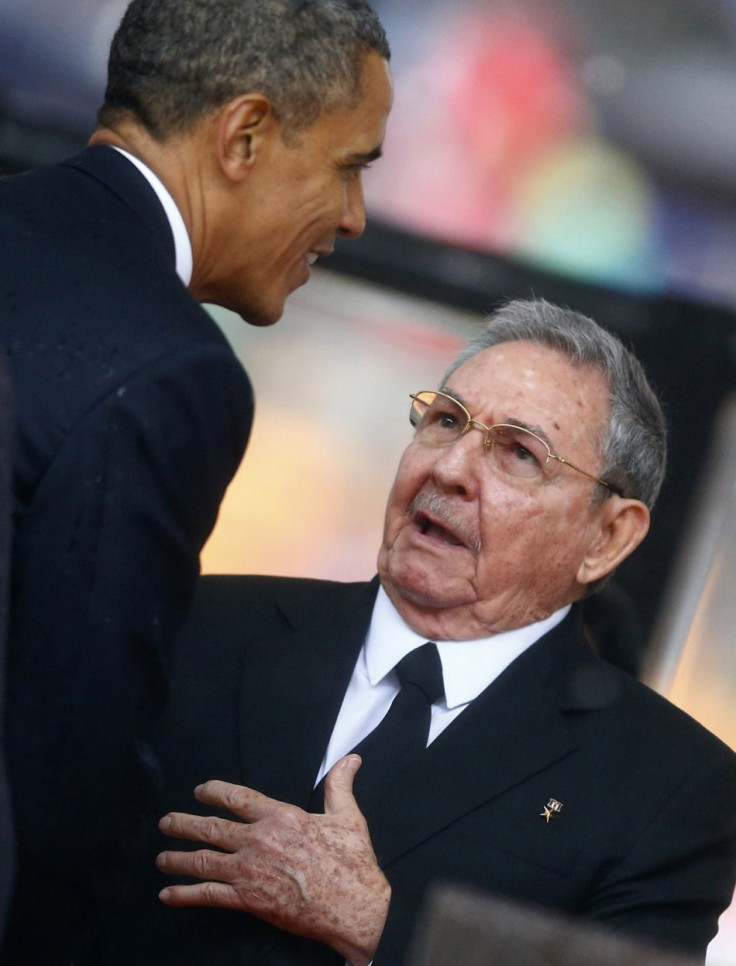 12.27pm
There are only three speakers left: Pranab Mukherjee, president of India, Raul Castro of Cuba, and South African president Jacob Zuma.
Ramphosa, again urges discipline to calm down chants and other noises that cover speakers' voices.
"Mandela was disciplined, and let us send him off with great discipline."
12.24pm
Hifikepunye Pohumba, president of Namibia is now delivering a speech.
However many people have started to leaver the stadium after Obama's speech.
"Nelson Mandela continued his nonviolent struggle with dignity and pride. Refusing to be intimidated, he never diminished his commitment,"Pohumba says.
"His stoic determination, patient and magnanimity reminded us in India of the revolutionary methods of Mahatma Gandhi."
12.15pm
China's vice president Li Yuanchao has paid tribute to Mandela after Rousseff.
"Mandela's thoughts and his spirit will live together," Li said switching to English at the end of his address.
12.13pm
In about 45 minutes Obama managed to do the following:
Apparently annoy the first lady Michelle Obama by sharing a laugh with Denmark's Prime Minister Helle Thorning-Schmid.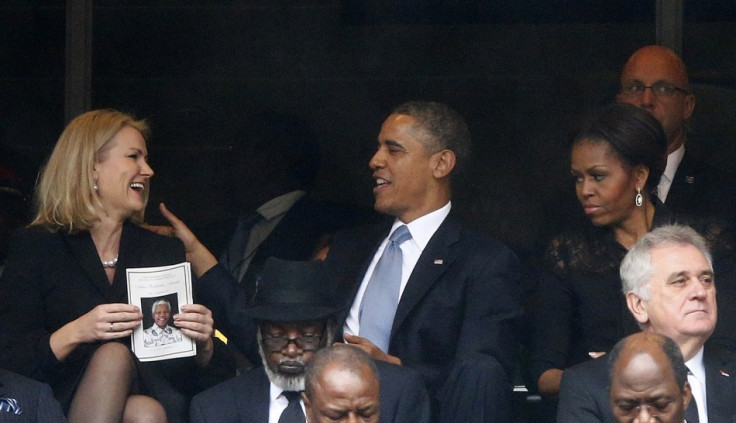 12.04pm
Dilma Rousseff, president of Brazil, has taken the stage after Obama.
11.54am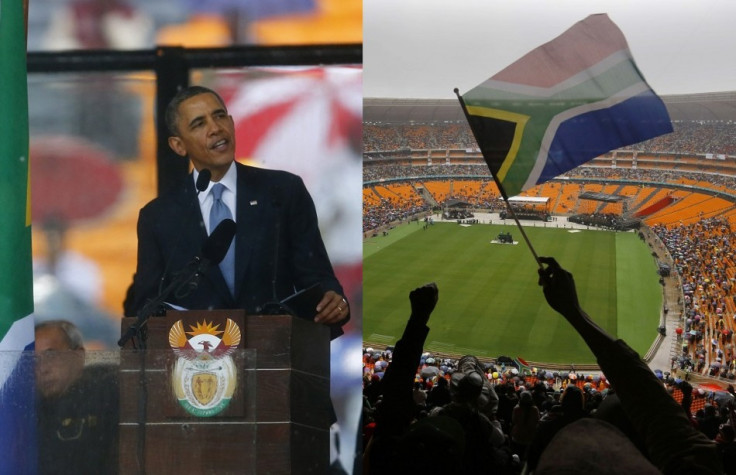 Here you can read the full text of Obama's speech.
Nelson Mandela Memorial Service: Barack Obama's Speech [FULL TEXT]
11.52am
Obama has ended his speech.
"I will always fall short of Madiba's example, but he makes me want to be a better man," Obama says.
"Nelson Mandela reminds us that it always seems impossible until it is done."
"We will miss him deeply may God bells the memory of Nelson Mandela, may god bless the people of South Africa," Obama concluded.
He urged world leaders and people to follow Madiba's example, not only to praise it.
11.44am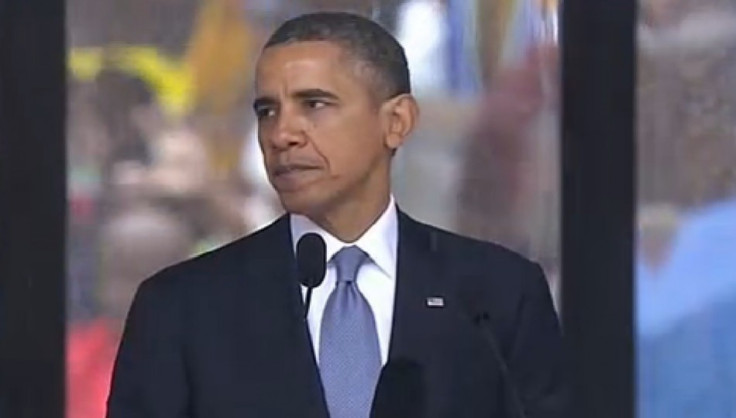 "Mandela understood the ties that bind the human spirit," Obama says.
"That we are all bound to each other in ways that are invisible to the eyes."
"It took a man like Madiba to free not only the prisoners but the jailers too."
"He changed laws but he also changed hearts."
11.41am
"Mandela thought us the power of action but also the power of ideas," Obama says. "He understood that ideas cannot be contained by prions walls."
Obama quoted a famous 1964 line Mandela said at his trial:
"I have fought against white domination and I have fought against black domination. I've cherished the ideal of a democratic and free society in which all persons live together in harmony and with equal opportunities. It is an ideal which I hope to live for and to achieve. But if needs be, it is an ideal for which I am prepared to die."
11.36am
Obama compares Mandela to Gandhi and briefly tells of his struggle and imprisonment.
"Like Gandhi he would lead a resistance movement," Obama says.
"He [Mandela] was not a bust made of marble; he was a man of flesh and blood, a father and a husband ... That is why we learned so much from him; that is why we can learn from him still."
11.32am
US president Barack Obama has started his address.
"Thank you so much," Obama says to the crowd applauding.
"The world thanks you for sharing Nelson Mandela with us," Obama tells South Africa.
"His struggle was your struggle his triumph was your triumph."
11.24am
US president Barack Obama is due to speak next
On his way to the stage Obama shook hands with Cuba's president Raul Castro and kissed Brazilian president Dilma Rousseff.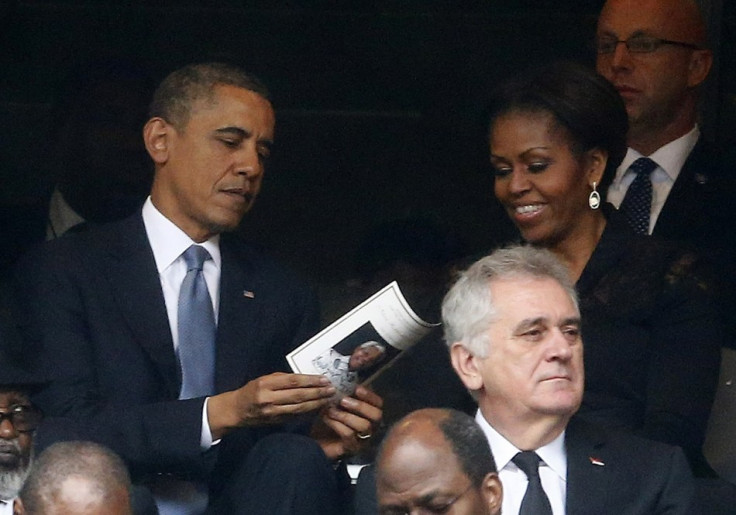 11.17am AU Commission chair Dr Nkosazana Dlamini Zuma is now addressing the stadium from the stage. 11.13am Meanwhile former US president Bill Clinton has taken his seat near his successor George W. Bush.
11.09am Baleka Mbete, National Chairperson of the ANC, lists the dignitaries attending the ceremony, including Palestinian leader Mahmoud Abbas, Robert Mugabe and other world leaders getting mixed responses from the crowd.
10.59am UN secretary-general Ban Ki-moon is speaking. "Nelson Mandela was more than one of the greatest leaders of our time." Mandela sacrificed so much and was willing to give up everything for freedom and democracy, Ban says. "He hated hatred." Our struggle against inequality and intolerance continues, Ban says.
10.57am The crowd explodes in enthusiasm and applause as US president Barack Obama appears on the screen. Earlier Ramaphosa urged the crowd to show discipline after Zuma was loudly booed.
10.53am Mandela's grandchildren or great-grandchildren: Mbuso, Andile, Zozuko and Phumla heve been called on stage.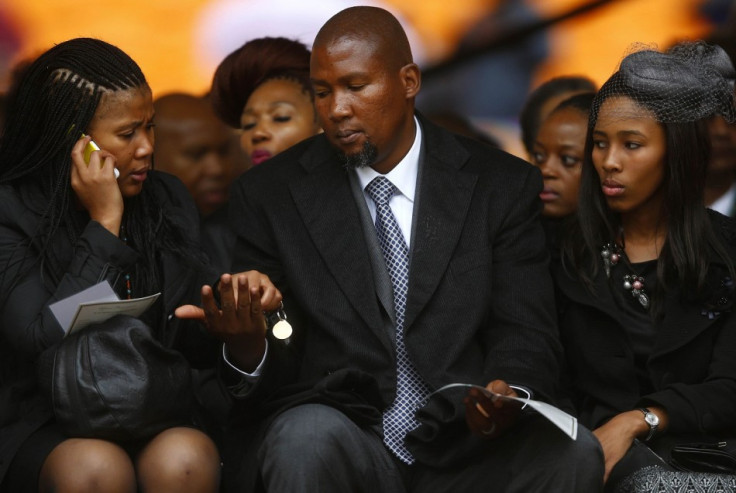 10.48am "Madiba saw his greatness as a means to make all men and women equal so they could live their lives to their fullest potential," Thanduxolo Mandela says. "As a family we have no option but to be powered by the principles of Nelson Mandela. He would accept no less." Mandela's glorious life is gone from our eyes but not from our minds and hearts, Thanduxolo Mandela says. The crowd boos every time the South African president Zuma is shown on the giant screen.
10.45am Thanduxolo Mandela says the family is there to mourn Mandela but also to celebrate his life. "Today more than any other feeling my family holds is thankfulness for that wonderful life."
10.42am General Thanduxolo Mandela, one of Mandela's family members, is to speak on behalf of the family.
10.35am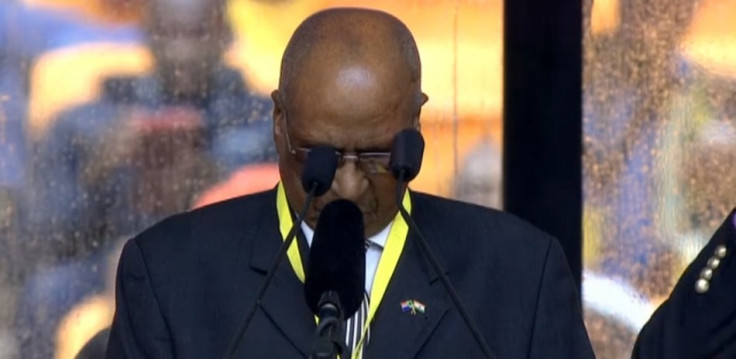 "Nelson Mandela was an inspiration for all of us," Mlangeni says. Mlangeni says Mandela forged optimism and confidence out of distrust and sorrow and represented hope when there was none.
10.33am Technical problems with the South African broadcaster are disrupting the address of Mandela's friend Andrew Mlangeni, who served time in prison with the late leader on Robben Island. "Madiba is looking down on us now," Mlangeni says, before the broadcast is interrupted.
10.28am A singer is singing a tribute song in Mandela's honour. Meanwhile here is a photo of Desmond Tutu at the Memorial.
10.25am "Give us courage to hold fast to his values," said the archbishop of Cape Town, Thabo Makgoba. "May he rest in peace and raise in glory."
10.24am Meanwhile Ed Miliband tweeted it is a "Great privilege to be representing the Labour Party" at the memorial.
10.21am After a prayer from the Hindu leader, the Muslim leader said Mandela laid the foundation of a free and prosperous South Africa "Madiba never lost an opportunity to reconcile people." "He made everyone feel important." 10.11am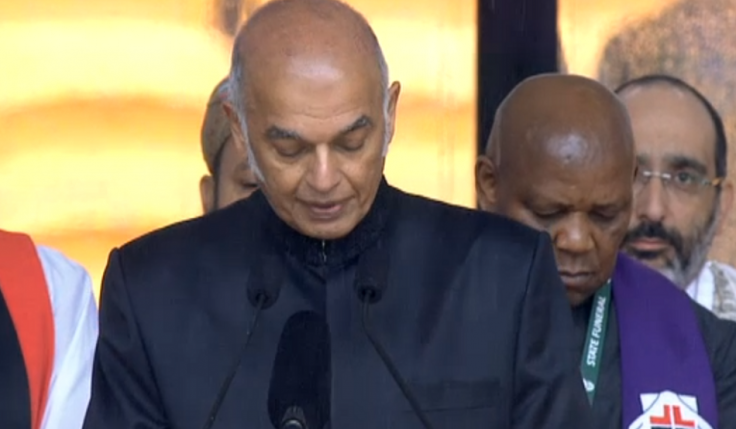 Interfaith opening prayers are being said by Jewish, Hindu, Muslim and Christian leaders. South Africa's chief rabbi, Warren Goldstein, is the first to start, comparing Mandela to Joseph. 10.10am "He was our teacher and our mender and he never gave up on us for our failures," Ramaphosa says. "This is the man that we have come to say farewell to." "This was the man who built our nation," Ramaphosa says. "His long walk is over but our is only beginning." 10.05am "On behalf of the president I welcome all of you who have travelled from all corners of the world," Ramaphosa says. "We have more than 100 countries represented here today." "I apologise for the rain we were unable to stop the rain but this is how Nelson Mandela would have wanted to be sent on. These are blessings." Ramaphosa says in African tradition it rains when to gods are welcoming someone who has died and the gates of heaven are open. 10.01am "Long live the spirit of Nelson Mandela, Viva Nelson Mandela Viva" the stadium chants, following ANC deputy president Cyril Ramaphosa who is opening the memorial speaking from the stage. 10.00am South Africa's national anthem is being played at the stadium signalling the start of the ceremony. 9.56am Brazilian president Dilma Roussef has been welcomed from the stage. The controversial president of Zimbabwe Robert Mugabe has aslo arrived. 9.53am As we're still waiting for the memorial to get going, here are two blogs on Mandela's legacy and how he was remembered in the apartheid heartland. READ: Nelson Mandela Memorial: Madiba's Humanity Challenges us all to be Better Nelson Mandela Memorial: How the Apartheid Heartland Remembered Madiba 9.45am VIP seats are sheltered from the torrential rain but many others are not.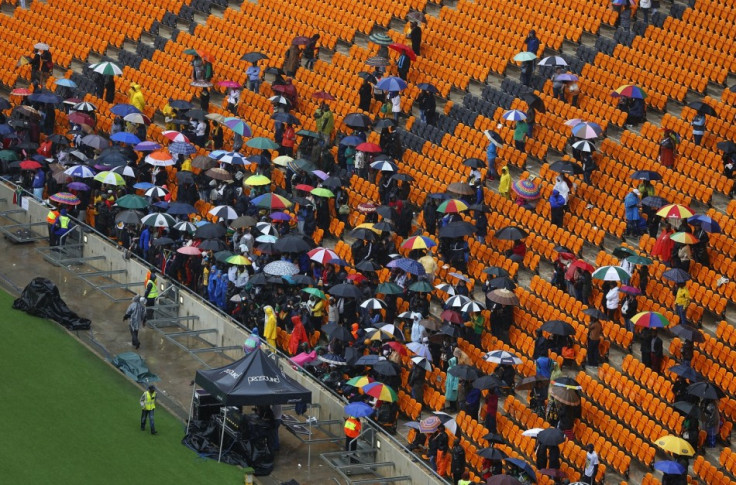 9.35am A speaker introduced some of the guests attending the memorial ceremony, including the president of Cuba Raul Castro, China's vice president Li Yuanchao and Mandela's second wife Winnie Madikizela-Mandela. 9.30am The Memorial has apparently started 9.29am "Nelson Mandela showed the world the power and value of forgiveness - so let us take this valuable lesson and excuse his taste in zany shirts," our reporter Dominic Gover wrote. "Mandela - or Madiba as he's affectionately known in South Africa - exerted huge influence on the world stage. He was the epitome of the great statesman in everything but his dress sense". Check out why here. 9.25am Meanwhile former South African president Thabo Mbeki has walked in the stadium, receiving a thunderous applause. Former US president Bill Clinton and his daughter Chelsea have also arrived.
9.21am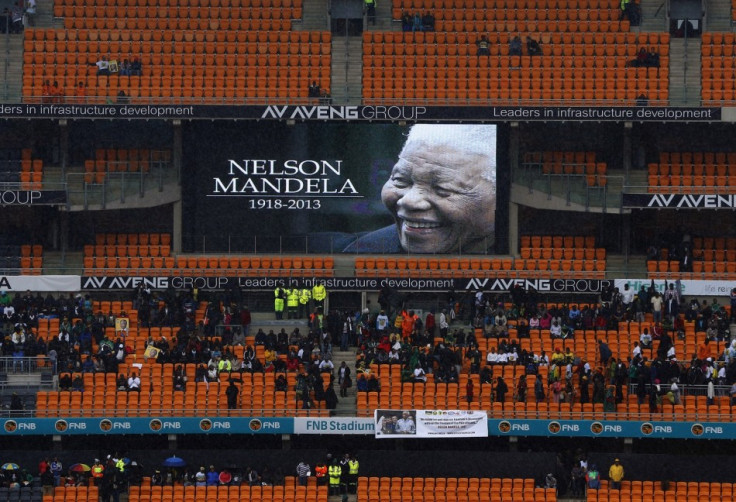 The BBC is reporting that the three overflow stadiums in Johannesburg where about 120,000 people were expected to watch a live broadcast of the event are almost empty. The torrential rain is apparently holding many back. Also it is not a national holiday in South Africa.
9.16am Waiting for the memorial to begin, have a look at the actors who have played the part of Nelson Mandela in box office films.
9.12am The memorial was meant to start 0900 GMT but is running late. Many seats of the FNB stadium are still empty and are still arriving under the pouring rain.
9.05am France's president Francois Hollande and his predecessor Nicholas Sarkozy have arrived at the FNB stadium together. Sarkozy had reportedly snubbed an invitation from Hollande to travel together to South Africa and boarded a separate plane instead.
8.58am The ceremony is about to begin. British PM David Cameron has arrived at the stadium while there is still no sign of US President Barack Obama.
8.56am
8.53am Among the celebrities attending are U2 frontman Bono and actress Charlize Theron who have just arrived at the Stadium in Soweto.
8.48am
The crowd on stands of the FNB stadium are singing and dancing as the memorial is due to start within a few minutes
8.30am
The last apartheid-era president of South Africa, FW De Klerk, has arrived at FNB stadium.
8.17am
Just to let you know, Barack Obama will be among the dignatories reading a tribute during the service, as will Cuban leader Raul Castro.
8.15am
Some interesting Mandela trivia for you. He was an avid boxing fan, he once dressed up as a chauffeur to evade the authorities, and he forgot his glasses when he was released from prison in 1990.
8.08am
Cameron, Blair, Brown and the other British dignitaries have arrived at the stadium, as has Barack Obama. Service due to start in just under an hour.