Neolithic 'Stonehenge' Monument and Burial Barrows Discovered in Kent
The Swale and Thames Archaeological Survey Company (SWAT Archaeology) has discovered a Neolithic henge and archaeological remains from several periods on housing development grounds in Sittingbourne, Kent.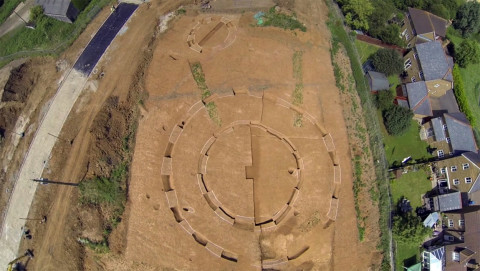 The structure, which is 30m in diameter, is over 6,000 years old and was found at Iwade Meadows, just east of the industrial town. It is just one of several prehistoric monuments to have been discovered on a north-west slope above the Ridham fleet stream, which runs through the centre of the excavation site.
According to SWAT Archaeology's Dr Paul Wilkinson, the monument consists of a pair of ring ditches.
The outer ring is believed to be Neolithic, a ceremonial henge-type gathering place, while the inner ring, an unbroken circuit, was added during the Bronze Age, when the structure was likely turned into a funerary monument, also known as a "barrow".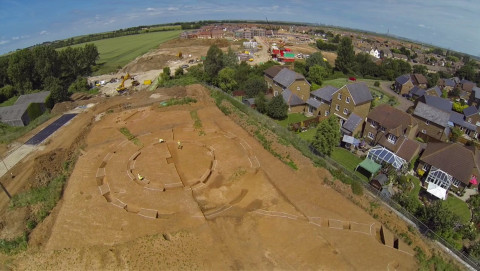 Near the structure, a second smaller monument was found by the archaeologists, which is believed to be a secondary barrow dating back to the Bronze Age.
"While the monuments may have fallen out of use for their primary function, by the middle Bronze Age they seem to have still been significant landscape features as a track from the north east is seen to have been extended to the causeway entrance of the outer ring," Wilkinson told IBTimes UK.
"Its purpose is not known but may be that the monument was reused as an enclosure for stock management at this time or could formally have been used as a 'sacred way' leading to the Neolithic 'henge'."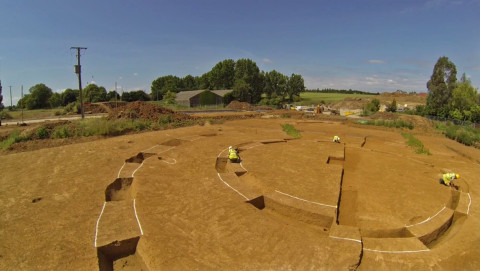 Wilkinson says the excavation of the Iwade Meadows monuments are almost complete and the archaeologists will next begin to analyse the numerous finds from the investigation in order to shed light on how the Neolithic peoples of Kent lived.
SWAT Archaeology's excavation also makes use of new technology, as the archaeologists brought in local Kentish aerial photography drone service Skyspider Aerial Imaging to record the site in high-definition video, the results of which you can see in the video below: