A powerful earthquake which struck Nepal on Saturday (25 April) has claimed as many as 970 lives, with more people feared dead.
Most of the deaths were reported to be from the Kathmandu Valley, according to a Nepal Home Ministry official, speaking on Nepal TV.
Initial reports from Nepal this morning placed the death toll at nearly 500.
The earthquake, measuring 7.9 on the Richter scale, and hit the area between Kathmandu and Pokhara, which is about 50 miles (80.5km) from the capital. Tremors were felt as far afield as Bangladesh, Pakistan and neighbouring India.
"We need support from the various international agencies which are more knowledgeable and equipped to handle the kind of emergency we face now," said Information Minister Minendra Rijal.
The earthquake destroyed buildings, including to the iconic nine-storey Dharahara, a watch tower built in 1832. Reports say 50 to 400 people are trapped under the tower.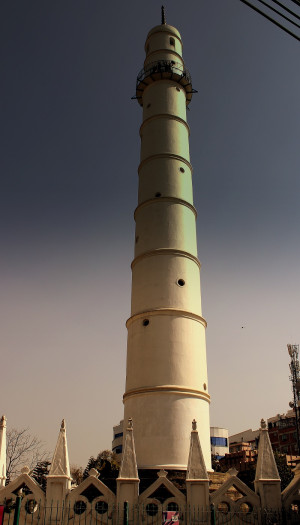 "Hundreds of people are feared dead and there are reports of widespread damage to property. The devastation is not confined to some areas of Nepal. Almost the entire country has been hit," said Krishna Prasad Dhakal, deputy chief of mission at Nepal's Embassy in New Delhi.
Country devestated
The earthquake happened at 11.55am local time (06.11am GMT) and USGS estimated its depth at 9.3 miles (15km).
Kathmandu Valley sits on a major fault line. Many of the buildings in Nepal's capital city, Kathmandu, are in poor condition in the densely populated city of about 2.5 million.
"It was a pretty massive earthquake here, the strongest I've ever felt in my life," one photojournalist in Pokhara told Sky News.
"We've all gathered on a tennis court which is the only open space available to us close by. There is quite a lot of damage. The building I was in has quite a lot of cracks in it. There was a construction site right next to us and several of the new ways have fallen and there was an injury," she said.
Government officials in India have said that the tremor has claimed 12 lives as six people died in house collapses in the state of Uttar Pradesh while six more died further east in Bihar.
Indian broadcasting network, NDTV has reported that Indian Prime Minister Narendra Modi has phoned his Nepalese counterpart, Sushil Koirala to pledge India's immediate assistance to the country.
Nepal was struck with its worst recorded earthquake, measuring 8.3 in 1934 which killed 8,500 people.