A 7.9 magnitude earthquake has hit Nepal triggering tremors in several cities in neighbouring India.
The powerful quake is believed to have caused avalanches in Mount Everest although the extent of the catastrophe remains to be seen.
Reuters reported that 50 people are trapped in a 19<sup>th century tower in Kathmandu that was wrecked in the quake.
Images on social media showed many collapsed buildings in the Nepalese capital. Initially, the magnitude of the earthquake was measured as 7.5 but was later revised.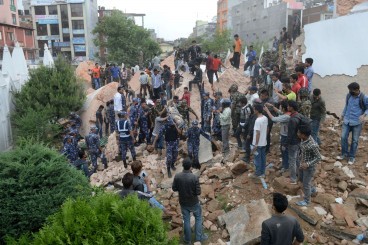 Many cities and towns including capital New Delhi in northern India experienced the tremors. No casualties have been reported as yet. Television images showed people running out of their buildings in several Indian cities.
J L Gautam, Head Operations Seismology of the Indian Meteorological Department (IMD), said: "Earthquake of magnitude 7.5 occurred today (25 April) at 11.41 am between latitude 28.1 North and longitude 84.6 east. The epicentre was located in Nepal," an IMD statement said.
Even some far-off cities in Pakistan have reported feeling the effects of the quake.
The quake's depth was about 3kms which is considered as shallow. Usually, earthquakes which occur closer to the surface cause more damage than the ones that occur deeper.
Indian Prime Minister Narendra Modi has reached out to Nepalese President Ram Baran Yadav and promised help.
"We are in the process of finding more information and are working to reach out to those affected, both at home & in Nepal," wrote Modi on Twitter.