A powerful earthquake has struck Nepal, killing at least 108 people according to an initial estimate by Nepalese police, and bringing down buildings and causing extensive damage.
According to the US Geological Survey the 7.9 magnitude quake hit an area between Kathmandu and Pokhara, which is about 50 miles (80.5km) from the capital on Saturday (25 April).
Reports suggest that the earthquake has also triggered avalanches in the Mount Everest area. Mountaineer Alex Gavan said that he had to run for his life after a "huge earthquake then huge avalanche" struck from Pumori, a mountain situated close to Mount Everest on the Nepal-Tibet border.
Tremors were felt as far away as Pakistan and New Delhi, the Indian capital city, which is more than 200 miles away. Dozens of people have been taken to Kathmandu's main hospital, although there are no immediate estimates on number of fatalities.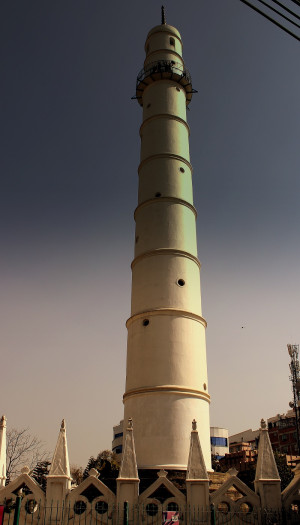 "We are in the process of finding more information and are working to reach out to those affected, both at home and in Nepal," Prime Minister Narendra Modi tweeted.
The earthquake happened at 11.55am local time (6.11am GMT). The US Geographical Survey (USGS) estimated its depth at 9.3 miles (15km).
Kathmandu sits on a major fault line. Many of the buildings in the densely populated city of about 2.5 million are in poor condition.
Tower collapsed
The powerful quake caused the collapse of Nepal's iconic Dharahara – the Bhimsen Tower.
Several bodies are being removed from the site, but it is unclear how were killed in the historic, nine-storey former military watchtower, built in 1832.
CNN's sister network, CNN-IBN is reporting that 400 people have been trapped following the collapse of the tower, although Sky News has put that number at 50 as emergency teams rush to reach them.
"It was a pretty massive earthquake here, the strongest I've ever felt in my life," one photojournalist in Pokhara told Sky News.
"We've all gathered on a tennis court which is the only open space available to us close by. There is quite a lot of damage. The building I was in has quite a lot of cracks in it. There was a construction site right next to us and several of the new ways have fallen and there was an injury," she said.
In 1934 Nepal was struck with its worst recorded earthquake, measuring 8.0 on the Rietcher scale.