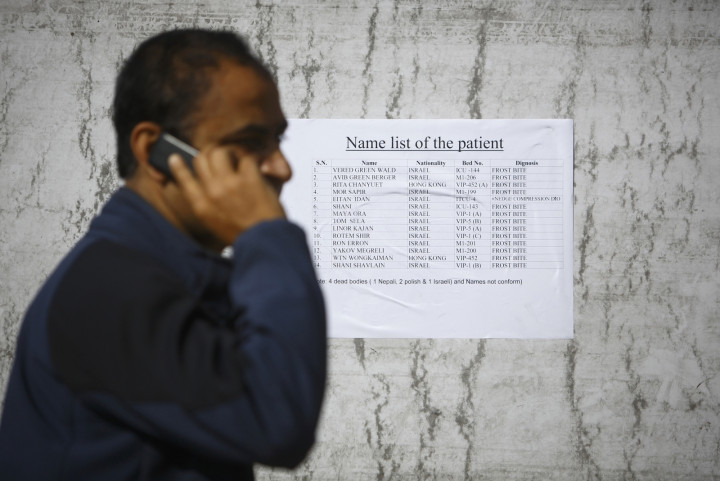 A number of British trekkers are feared missing after fierce storms struck Nepal, killing 32 people.
The Foreign Office confirmed that it has spoken to the families of a number of UK nationals who are concerned about their relatives, having not heard from them since the bad weather started.
A spokesman said that no UK casualties had been confirmed, and that authorities were in regular contact with their counterparts in Nepal.
The Times reports that as many as 10 Britons are missing, amongst them engineer Peter Roddis.
His girlfriend, Lisa Hallet, told the paper she last spoke to him on Wednesday.
"He said he was planning to head out that day or on Thursday, but I have not heard from him since," she said.
Briton Lizi Hamer, 31, who was feared missing, was reported to be safe by friends on Facebook on Saturday.
The 150-mile Annapurna circuit takes three weeks to complete, and is popular with trekkers from around the world, offering spectacular views of mountain ranges and Nepalese villages.
For two days storms, whipped up by a hurricane that struck the coast of India, battered the spectacular Annapurna range, and more than 230 trekkers, most of them foreign, were airlifted to safety by authorities.
One Briton, Paul Sheridan, 49, from Doncaster, has claimed that trekkers were "herded to their deaths" by ill-equipped guides, and should not have been allowed to ascend the mountains following forecasts of bad weather.
The weather hit a resting place 4,500 metres above sea level, not far below the Annapurna circuit's highest point at Thorung La pass.
Rescuers are still searching for others, who it is feared may be trapped in snow, or stranded in lodges.
The Nepalese government has appointed a high-level committee containing two senior ministers to oversee rescue efforts.