Viewers become hooked quicker on fantasy shows like Stranger Things than true crime dramas such as Making A Murderer or Narcos, analysis conducted by Netflix has revealed. The study noted that it only took three episodes of the sci-fi thriller to grip followers with 70% of UK fans who made it that far sticking with the show until the final episode, according to the streaming service.
It also took three episodes of Baz Luhrmann's musical drama The Get Down and sci-fi drama Orphan Black to hook fans while four episodes was the turning point for viewers of Making A Murderer, Narcos, Marvel's Jessica Jones, Aziz Ansari's Master Of None and French political drama Marseille. Netflix also discovered that it took around six episodes of Jane The Virgin's first season to encourage people to finish it while Gilmore Girls took seven.
Starring David Harbour and Winona Ryder, Stranger Things follows a group of four young boys and the events that follow after one of them goes missing. Just as their friend vanishes without a trace a mysterious girl named Eleven turns up in the last place they saw him... and she just happens to possess some pretty intriguing supernatural powers.
Meanwhile, in a desperate attempt to find her son, the missing boy's mother (Ryder) opens an investigation into his disappearance with local authorities which happens to unravel a series of mysteries involving top-secret government experiments as well as a link to Eleven.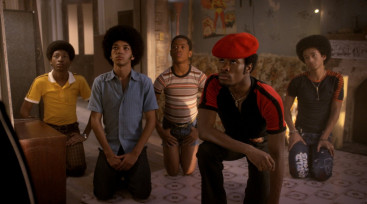 "We've always known there is a commonality to great stories. The internet allows us to share these stories with audiences wherever they may be and what we see from the data is how similar our members watch and respond," Cindy Holland, vice president of original content at Netflix, stated.
"The hooked findings give us confidence that there is an appetite for original and unique content, which is why we're excited to deliver variety in stories to our members – whether they're political dramas from France or musical dramas from the Bronx."
Luckily for Stranger Things fans that were hooked early on in the series, the show confirmed a second season was happening earlier this month – less than two months after the first became available to stream on Netflix. According to the supernatural show's creators, Matt Duffer and Ross Duffer, the follow-up episodes have already begun shooting and that "[season two] is going to feel very different [but they] think a lot of people will prefer season two, because it's going to be a little darker and a little weirder".
Check out Netflix's full results below and discover which exact episode from each of your favourite series had you turning into a full-blown television addict...
3 EPISODES
Stranger Things – Chapter Three: Holly, Jolly
The Get Down – Darkness Is Your Candle
Orphan Black – Variation Under Nature
Teen Wolf – Pack Mentality
Scream – Wanna Play A Game?
iZombie – The Exterminator
How To Get Away With Murder – Smile, or Go to Jail
Love – Tested
4 EPISODES
The Ranch – Got A Little Crazy
Prison Break – Cute Poison
Narcos – The Palace In Flames
Master Of None – Indians On TV
Marseille – Intox
Making A Murderer – Indefensible

Jessica Jones – AKA 99 Friends
Fuller House – The Not-So-Great Escape
Between – Love Hurts
American Horror Story: Murder House – Halloween: Part 1
5 EPISODES
Club de Cuervos – Barriers to Exit
The Good Wife – Crash
6 EPISODES
Gotham – Spirit of the Goat
Jane The Virgin – Chapter Six
7 EPISODES
Gilmore Girls – Kiss and Tell
For more entertainment news follow A-List on Twitter @Alistinsider