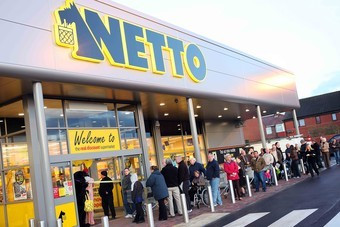 Netto MD, Claus Juel-Jensen today announced his disappointment at failing to make Netto a success in UK.
The discount chain was today sold to Wal-mart who plan to convert the stores into a smaller chain of stores under the Asda brand it runs in UK.
However, Netto, who admitted to failing to win over consumers of UK, spoke out on the matter as their discount food stores have had more success in Germany, Poland and Denmark/Sweden:
"The UK is a very tough market ... but with our small market share and small number of stores we have been doing very well." said Claus Juel-Jensen admitting the group left with a 'heavy heart'.
"We have big opportunities in central Europe and Scandinavia and we have a chance to focus on that, we have been doing very well in the UK and I'm actually very proud of how the team has been doing." he added.
Asda meanwhile, who announced a 'five year' plan to become the clear 'Number Two' in UK last month, said:
"It's time for a new chapter," said Andy Bond, Chief Executive of Asda, who actually stepped down at the same time - before today's announcement of a purchase of Netto's for £778m.
The chain will run under a new supermarkets division for smaller stores not too dis-similar to Lidl and Aldi which Juel-Jensen said expanded far to quickly for Netto's to keep up with.
Netto's average store size had been 8,000 sq ft.
However, Juel-Jensen said Netto had not opened stores at the same rate as Aldi and Lidl and lacked a certain appeal to the consumer, which had been won over in the continent:
"The UK consumer has not been so close to this model of a limited-range discounter," Juel-Jensen said.
Wal-mart's plan meanwhile is to extends its Asda brand to smaller store formats which have been so successful in adding value to rivals such as Tesco's:
"It's important to be a much clearer multi-channel and multi-format retailer. Over 50% of the space growth is likely to come from smaller stores [and] we want to achieve growth in smaller food stores." said former CEO, Andy Bond.