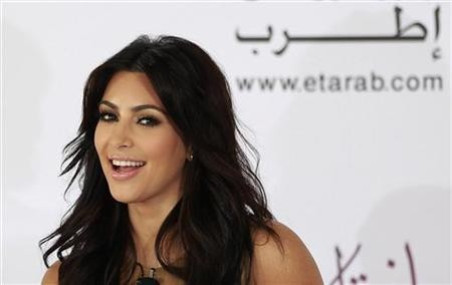 She already counts music power-couple Jay Z and Beyoncé amongst her list of celebrity friends, and now Kim Kardashian is setting her sights on her own royal union.
The 32-year-old reality show favourite is reportedly planning to call Kate Middleton to arrange a lunch date.
According to the Daily Star, the Keeping up with the Kardashians star is keen to become friends with the Duchess of Cambridge and intends to make it happen during her brief visit to London.
Kardashian is in the capital for a few days to promote a jointly-owned fashion label, Kardashian Kollection, with her sisters Kourtney and Khloe. The new clothing line has been designed exclusively for Dorothy Perkins.
Speaking to the newspaper, the curvaceous beauty revealed that she admired the 30-year-old royal's style.
"We all love her, and would love to hang out with her. I'm going to call her up and ask her for lunch. She's amazing," she said.
She is not the only person who is a huge fan of Prince William's wife. Karadshains's beau, rapper Kanye West, has apparently also been singing her praises.
The Watch the Throne hitmaker is said to have even encouraged his girlfriend to tone down her make-up to be more like the Duchess.
A source said: "Kanye urged Kim to tone down her make-up and style her hair in a more conservative style, like Kate.
"He also told her that she could learn a thing or two about poise and sophistication from her."
Speaking about the line, Kim explained why they have tweaked the range for their British market.
The Kardashian 100-piece line, which contains several handbags and clutch bags, as well as BodyCon dresses, has gone on sale in Dorothy Perkins stores nationwide and on the internet.
"I would say the UK look is more... effortless, but more chic," Kardashian told The Sun.
"And we wanted to make sure we had pieces that go with that. We have different blouses, slouchier tops... It's what our brand is all about. Quality at an affordable price."