A new book has claimed that a blaze that killed 56 football fans at Bradford City's Valley Parade ground in 1985 was just one of at least nine fires at businesses owned by or associated with the club's then chairman.
The book, written by Martin Fletcher, a Bradford fan who lost three generations of his family in the stadium fire, is being serialised in the Guardian newspaper. Fletcher believes the fire was not an accident and says he and his family are no longer willing to "live the myth".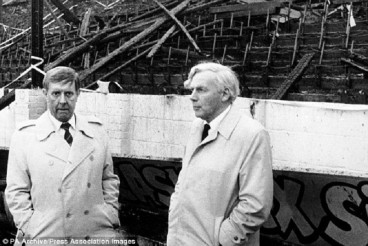 Fletcher himself escaped after the wood-built main stand at Valley Parade burned down during Bradford's game against Lincoln City on 11 May 1985. His brother, Andrew, 11, was the youngest victim and his father John, 34, uncle Peter, 32, and grandfather Eddie, 63, all perished. Martin Fletcher, who was 12 at the time, has spent the past 15 years investigating what happened and his book, Fifty-Six – The Story of the Bradford Fire, is published on Thursday 16 April.
The book reveals there had been at least eight other fires at business premises either owned by, or connected to, Stafford Heginbotham - who died in 1995, aged 61 - Bradford's then-chairman, in the previous 18 years, resulting in huge insurance claims. Fletcher does not make any direct allegations but he does believe Heginbotham's history with fires, resulting in payouts of around £27m in today's terms, warranted further investigation. "Could any man really be as unlucky as Heginbotham had been?" he asks.
Painstaking research
Fletcher's evidence was collected through months of painstaking research into Heginbotham's business history and by trawling 20 years of local newspaper reports into fires in the Bradford area.
The pattern began with a fire at a three-storey Bradford factory in May 1967 and continued on Good Friday 1968 with another fire at the premises of Genefoam, of which Heginbotham was the managing director. A firm Heginbotham had founded suffered a serious fire in 1970 before the Castle Mills building, owned by Heginbotham, had a fire in 1971. Further blazes followed at the Douglas Mills building, also owned by Heginbotham, in August and November 1977. In December that year there was a fire at the premises of Coronet Marketing, a subsidiary of Heginbotham's Tebro Toys. A further fire at the Douglas Mills building occurred in June 1981.