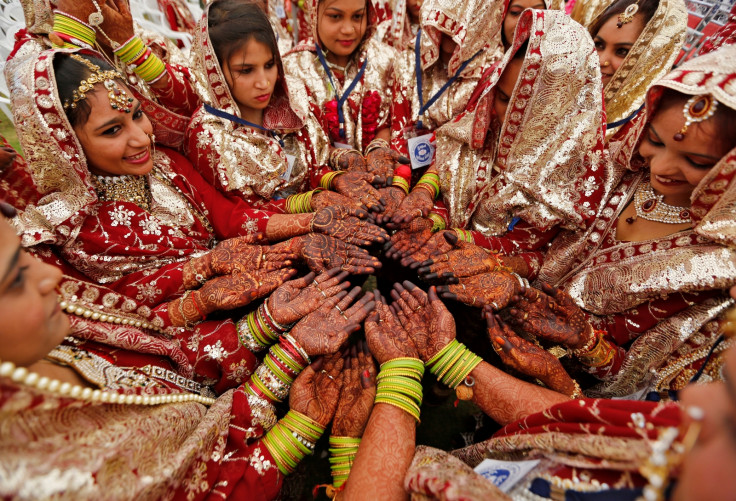 More than 700 new brides in a small town in central India received "washing bats" as wedding gifts during a mass marriage ceremony on Saturday (29 April).
Madhya Pradesh state's rural development minister Gopal Bhargava, who distributed the bats, told the newly-wed women to use their new weapon "below the waist of all those who indulge in alcoholism, particularly in selling illicit liquor".
The washing bats are smaller in length than cricket bats and normally used in several Indian households to wash clothes. The ones given to the brides had messages printed on them to make the purpose clear. "A gift to reform the drunkards" was written in blue on one side and "police will not interfere on its use" was written in red on the other.
Bhargava said that illicit liquor has become "a big menace" in the state and the government needed public support in curbing its sale and consumption. "The bats are a symbolic gift to the newly married daughters to use it effectively against the alcoholics," Bhargava noted.
The new brides also received smartphones and cash gifts during the community marriage ceremony, which are part of the government's project to help financially weaker families to get their daughters' married off. The Saturday event saw nuptials of 700 Hindu couples and 21 Muslim couples.
"Even the smartphone gifted to all the brides is not only to make them part of digital India, but also to help them inform the cops, local officials and public representatives about sale of illicit liquor and other law and order problems," the minister explained.
The fight against alcoholism and illicit liquor has intensified in the country in the past few months, with the government recently imposing a ban on liquor shops located very close to national highways. Under the new rule, liquor shops can operate only at a distance of 500 metres away from the highways. The aim is to prevent drunken driving.
Gujarat, the state which was led by Narendra Modi for over a decade before he became the Prime Minister of the country in May 2014, has been a dry state for many years. In the recent years, Kerala in South India and Bihar in the east also became liquor free states after banning public sale of liquor. Following suit, Madhya Pradesh also plans to gradually phase out public sale of liquor across the state.