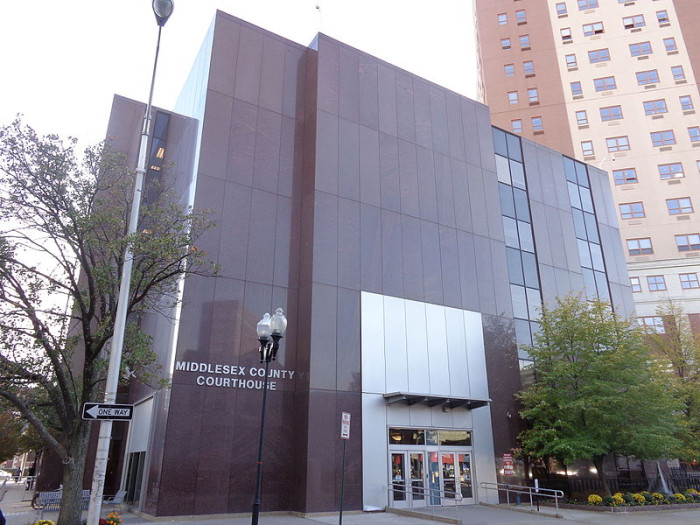 A Florida woman has been convicted of murdering her five-year-old son in May 1991 and sentenced to 30 years in prison.
Superior Court Judge Dennis Nieves accused Michelle Lodzinski of consistently lying about the circumstances surrounding the disappearance of her son, Timothy Wiltsey, to avoid justice.
The court heard how Lodzinski, then 23, had been living in New Jersey as a single mother when she committed the crime.
She originally claimed Wiltsey had vanished while visiting a carnival in Sayreville, but later changed her story to state he had been abducted.
Despite his body being found 11 months later, decomposing in marshes near Raritan Center business park, Edison, where Lodzinski had once worked, the mother escaped justice for over two decades due to a lack of evidence, until new evidence emerged in 2014.
Prosecutors reopened the investigation after three former babysitters identified a blanket found near the body as originating from the family apartment.
Prosecutors said Lodzinski had never taken Wiltsey to the carnival. Always a prime suspect, she did not testify and a cause of death has never been determined.
Originally charged in 2014, while living in Port St. Lucie, Florida, with two teenage sons, Lodzinski was convicted in May 2016 and was due to be sentenced in August 2016.
However her attorney called for her to face a retrial or be acquitted, claiming prosecutors relied on circumstantial evidence, 6ABC reports. A judge rejected the appeal in October.
Prosecutors who had investigated the case had called for a life sentence.
"She coldly and callously murdered her child and threw his body in a ditch," said Middlesex County Deputy First Assistant Prosecutor Christie Bevacqua according to nj.com.
"She left him to decompose so that a cause of death was never determined. A mother who kills her child should spend the rest of her life in prison."
Lodzinski, now 49, was jailed for 30 years, with 884 days credit for time already served. Judge Nieves told her: "The reason you were found guilty, Michelle Lodzinski, is because the jury believed that you lied, you lied, you lied again. You lied, you lied and you lied."
One of the jurors who found Lodzinski guilty returned to court for sentencing. "We felt an attachment to Timmy, as if we were there fighting for him and I think the prosecution did an amazing job of laying out their case and proving her guilt," the juror told CBS local.