Motorola is planning to release a new smartphone featuring 4.3in display as soon as next month.
A few days ago, there were reports that Motorola was planning its next flagship smartphone, Moto X+1, in late summer. The leaks do not reveal details about the smartphone except that it would have 25 backplate options under five categories such as Cool, Neutral, Warm, Wood and Leather.
The Brazilian site Technoblog, after obtaining a leaked screenshot of a document, now reports that Motorola will be releasing a new smartphone with 4.3in display. The device is said to have been approved by Antel network operator, which will come in three variants such as XT1021 having single SIM option, XT1022 with dual-SIM and XT1025 with dual SIM and digital TV.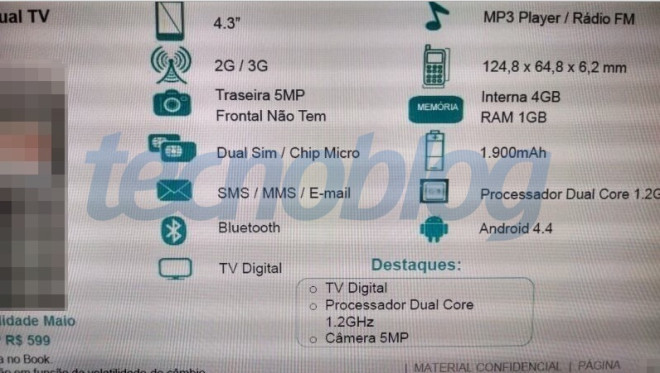 As for other technical specifications, the new handset is expected to be powered by a dual-core 1.2GHz processor paired with 1GB RAM. It will offer 4GB internal storage and launch with Android 4.4 KitKat software version out of box. Among other key features are a five megapixel rear-camera and 1,900mAh battery. Besides, the new Motorola smartphone will measure 124.8 tall by 64.8 wide by 6.2 thick.
There is not much information about the pricing and availability of the Motorola smartphones but the leaked screenshot suggests the dual SIM variant with digital TV will cost $599 (approximately £357). This also indicates another variant with single SIM card slot will come at an even lower retail price.
Motorola is expected to launch the new smartphone featuring a thickness of just 6.2mm in May.