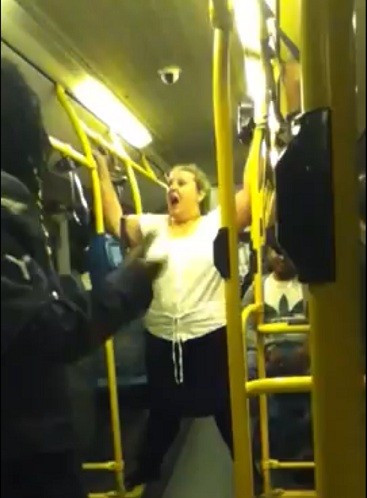 Footage has appeared online of another racist outburst on London public transport.
The clip, secretly filmed on a bus, shows a woman shouting abuse at a another passenger before appearing to punch him.
At one point the unnamed woman appears to attempt to swing off the bars on the inside of the bus to kick the man, but instead ends up rolling on the floor. She also appears to punch him before being bundled off the bus.
"I really don't know whether you're afro-bian, Caribbean," she screams at the man, asking "who are you?", after describing herself as a "great white c***".
See the footage, posted by Youtube user gwenniepatch, below. Warning: Very strong language.


The video, shot in July, joins a number released after the uproar caused by Emma West's racist tirade on a Croydon tram.
White supremacists have pledged to send donations to West, after declaring her a "white hero".