There are just hours to go before the New Year's Eve celebrations kick off, with spectacular firework displays planned across major cities in the UK.
In London, fireworks will light up the sky above South Bank at midnight, with 100,000 ticket holders for the event expected to watch the display at the River Thames.
Hogmanay is set to be a dazzling night in Edinburgh, with torchlight processions and a countdown to the world famous fireworks.
IBTimes UK brings you the best firework displays from around Britain, to bring in 2015 with a bang.
London
This year's display will be one to remember, with 12,000 fireworks producing 50,000 projectiles. Over 80 organisations are involved in the event, which is now ticketed for the first time after 500,000 people tried to watch it last year – with many turned away for safety reasons.
Even if you don't have a ticket, it is still possible to see the fireworks from various parks and locations around the city. From Hilly Fields in south London to Hampstead Heath, you can find your perfect spot here.
Manchester
The annual New Year's Eve party will kick off in Piccadilly Gardens from 11pm, with a firework display to welcome the New Year. Thousands are expected to turn up to the party, which is free and funded by the owners of the big wheel.
The family-friendly party is alcohol-free - but it may be just the ticket for those wanting to start dry January early.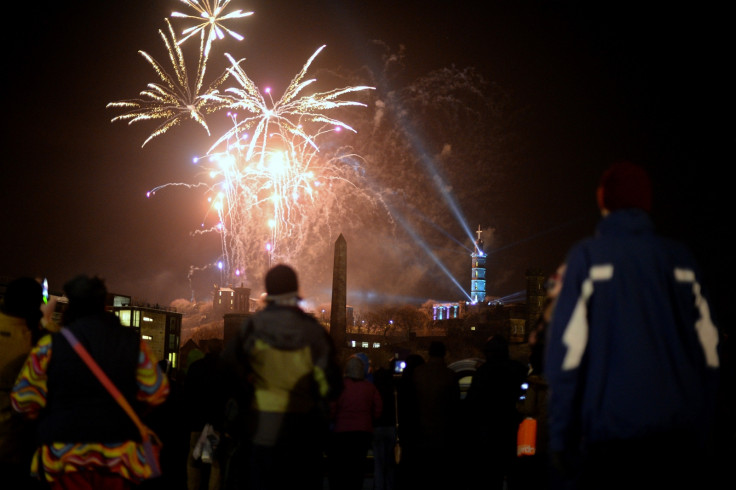 Birmingham
Centenary Square in the city will host the annual firework display on the stroke of midnight. If you want to bring in 2015 with a drink, the Rainbow Venues in Digbeth promise a great view of the fireworks from their rooftop mezzanine.
Edinburgh
Highlighted as one of the "Top 100 things to do before you die", Edinburgh's Hogmanay festival is a must-see – and there are still tickets available, but they are selling quickly.
The street party arena, bars and attractions will open from 7pm, with live bands from 9pm. The magnificent fireworks display will take place with the backdrop of Edinburgh Castle.
Newcastle
New Year's Eve celebrations will kick off with the annual street party and there will be a double fireworks display – a family-friendly one on the quayside in the early evening and the midnight show on the banks of the Tyne.
Bristol
Bristol residents can look forward to the annual fireworks display over the historic Clifton Suspension Bridge. There will be plenty of cider and dancing as the city's skyline is lit up, followed by various events around the city. The Bristol Post has an excellent round-up of New Year's Eve events.
Cardiff
The party in Cardiff will kick off at the Winter Wonderland, with a live DJ at 9pm and 12.20am, along with a firework finale to introduce the New Year.