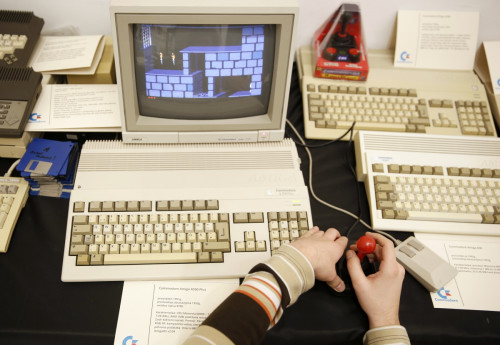 A New York man who has built up as library of 10,607 videogames has earned a Guinness World Record.
Michael Thomasson, 43, of Buffalo in upstate New York, was named as the owner of the largest collection in the world in the Guinness World Records 2014 Gamer's Edition.
His collection fills a basement of his suburban home, and spans the earliest cartridge games to the latest Xbox and PlayStation releases.
He also has a vast collection of consoles, from megasellers to the obscure Casio Loopy, the only model specifically released for girls, which came out in Japan in 1995, and the Pippin, a commercial flop released by Apple that same year.
He said that he was bitten by the collecting bug after his grandparents bought him his first videogame, Cosmic Avenger, for Christmas when he was 12.
However it was not until a year later that his parents bought him the in-demand Colecovision system to play it on.
"I have games on cartridge, laser disc. I have VHS-based games, cassette-based games," Thomasson said.
"They looked good, they played good. For the time they sounded good."
Thomasson has sold his collection twice - once to pay for his marriage - and has rebuilt it from scratch.
He estimates that the collection is worth $700,000-$800,000 (£430,000-£490,000).
He said that since the Guinness World Record count, his collection has grown to include more than 11,000 games.
The previous record was held by Richard Lecce of Florida, who had 8,616 games in 2010.
Thomasson, who designs games and teaches game design and the history of videogames at Canisius College in Buffalo, said he believed that computer games should be more widely collected, and respected.
"Everything from the original artwork to the actual code that was written for the games to the actual box art and the whole marketing plan," he said. "It's just a very undervalued and underappreciated artform."