An Afghan-born American citizen charged over terrorist acts in New York and New Jersey has pleaded not guilty in his first court appearance. Ahmad Khan Rahimi, 28, is also accused of the attempted murder of five police officers in a shootout which led to him being seriously injured before being arrested.
On 17 September this year, a small device exploded in a bin on the route of a 5km charity run in aid of marines and two unexploded devices were found in the same bin.
Another explosion in a dumpster in Manhattan that same evening injured 31 people, while a further unexploded device was found outside an apartment nearby and defused by police. The pressure cooker devices were similar to those used in the Boston marathon attacks in April 2013 in which three people died.
The next night, five devices were found at Elizabeth train station in New Jersey, near Rahimi's home. One exploded when it was being disarmed by robots but no-one was harmed.
On 19 September Rahimi was found passed out by a barman in Linden, New Jersey, who alerted police. When they arrived he allegedly began firing. Two officers received slight injuries and Rahimi was shot seven times. He was handcuffed to a stretcher as he was arrested.
In October, Rahimi - who worked in a chicken shop - appeared in court via video link from his Newark hospital bed. For his first actual court appearance in Union County, New Jersey, on 20 December, he had to be helped into the building wearing a green prison uniform and white skull cap. His attorney entered a not guilty plea and he did not speak, Fox News reported.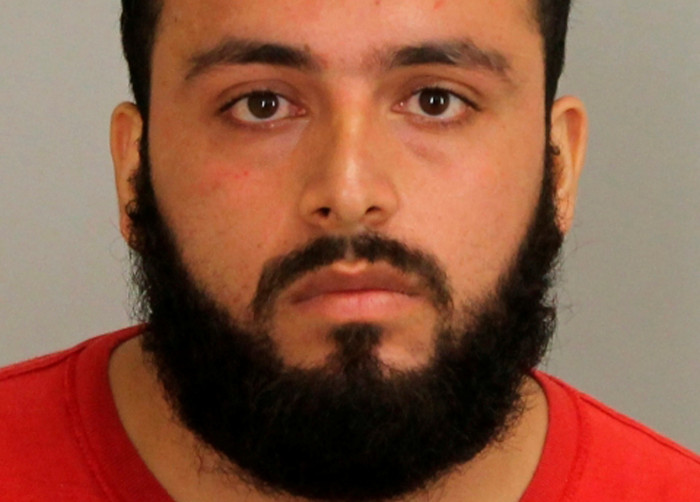 Rahimi faces a total of 30 indictments including weapon charges. No plea deals have been offered to him, prosecutors say. His next court appearance will be on 28 February 2017.