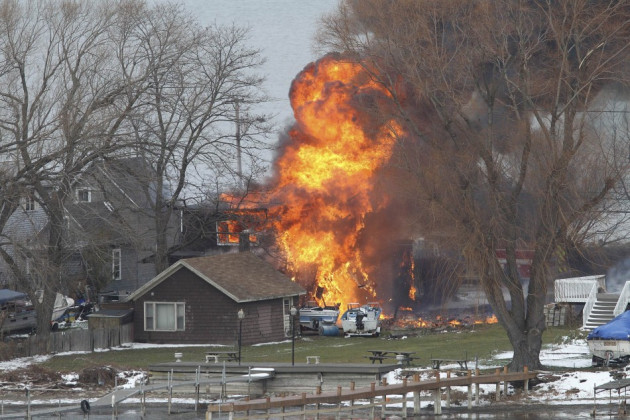 In what appears to be a trap, a gun attack in New York State has left two volunteer fire-fighters dead and two others injured.
The police believe that the gunman had lured them into a house after setting it ablaze and opened fire on their arrival.
The assailant, who was identified by the authorities as 62-year-old William Spengler, was also found dead at the scene. He is believed to have shot himself.
Officials named the dead victims as Tomasz Kaczowka and Mike Chiapperini.
The gunman was previously a murder convict and had served a 17-year jail sentence for killing his grandmother. Spengler is believed to have possessed several weapons, including a rifle, according to reports.
"It does appear it was a trap. These people get up in the middle of the night to go put out fires; they don't expect to be shot and killed," said the police chief in Webster town, Gerald Pickering.
The incident comes in the wake of the gun control debate following the Sandy Hook Elementary School massacre in Newtown that claimed 20 children and six adults.
Spengler's sister Cheryl is also missing and the police fear she too might have been shot dead or have died in the house fire.
The police believe the fire might have been set by Spengler himself "who then lay in wait with armament." Seven houses have been destroyed in the fire and the police are yet to confirm whether there are more victims.
"He took up a position of cover, to be a sniper and shoot the first responders. We know that there were several different types of weapons," said Pickering.
Two injured fire-fighters, Theodore Scardino and Joseph Hofsetter, have been taken to hospital and are likely to recover from gunshot wounds as they are not life threatening. Another police officer who happened to pass by was also injured in the incident.
"All of our thoughts and prayers go to the families and friends of those who were killed in this senseless act of violence," said New York Governor Andrew Cuomo.